Following a protracted development process, Microsoft has at last shipped the release version of Internet Explorer 10 for Windows 7, with the new browser due to begin rolling out to customers via Windows Update within the next few weeks.
In the meantime, customers who can't wait for the automatic update to arrive can download IE10 from Microsoft's website.
El Reg first got wind that Redmond was planning a "late February/early March" ship date for the Windows 7 version of its latest browser earlier this month, with sources attributing the accelerated schedule to the fact that the IE team could finally concentrate once all the Windows 8 hullabaloo died down.
IE10 is, of course, the default browser for Windows 8 and Windows Server 2012, but adapting it to run on earlier versions of Windows is apparently no mean feat. It's taken Microsoft almost two whole years to get it running on Windows 7, and no version for Windows XP or Vista is forthcoming.
"With this final release, IE10 brings the same leading standards support, with improved performance, security, privacy, reliability that consumers enjoy on Windows 8, to Windows 7 customers," Rob Mauceri, Microsoft's IE group program manager, said in an official blog post on Tuesday.
As it has done since IE10 was still in beta, Microsoft is touting the performance of the new release, claiming IE10 is "20 per cent faster for real world websites" – that is, as opposed to synthetic benchmarks, where Google's Chrome browser generally rules the roost.
IE10 also adds support for 30 new web standards that were not supported in IE9, Mauceri said, increasing the total number of supported standards by 60 per cent. In addition, it does a better job of supporting existing standards, including hardware acceleration for a number of features.
To prove it, Redmond offers the Internet Explorer Test Drive site, which includes a number of demo applications designed to measure how well a browser handles various HTML5, JavaScript, CSS, and DOM features.
For its latest demo, Microsoft has made the rather odd choice of implementing a fully functional game of Minesweeper – that perennial Windows time-waster – entirely using HTML5 and other web standards.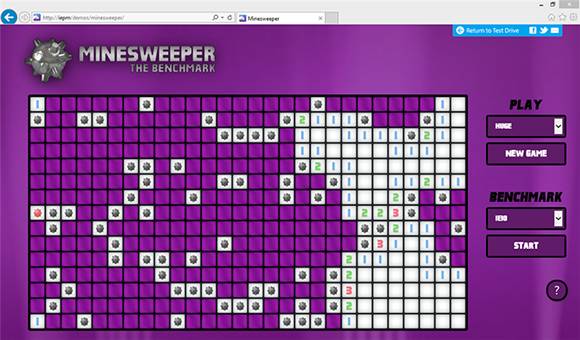 BEHOLD: The high-performance web application demo that could bring your browser to its knees
"Minesweeper is built on a breadth of Web platform capabilities including HTML5, CSS3, WOFF, touch, animations, transitions, audio, video, canvas, transforms, and power efficiency patterns," Mauceri writes.
The demo also includes a benchmark mode in which the computer – rather than a human player – solves the board, which Mauceri says is a good test of your browser's performance (if not its productivity).
Although IE10's standards support is overall much improved, however, not everyone agrees with how Microsoft has chosen to support some web standards. In particular, the fact that the Do Not Track (DNT) signal is turned on by default in IE10 remains controversial, and Microsoft shows no signs of backing away from the decision.
Microsoft says it will start pushing out IE10 via Windows Update "in the weeks ahead" – how's that for vague? – but that all customers running Windows 7 SP1 and Windows Server 2008 R2 SP1 will eventually receive the new browser as an "important update," meaning IE10 will become the new preferred browser for those platforms.
Corporate customers who remain leery of the update – or who haven't had a chance to test it with their internal web applications yet – should install the Internet Explorer 10 Blocker Toolkit, which prevents the IE10 update from loading while allowing other automatic updates to proceed as usual. ®