Pen pushing
Tests with the stylus using handwriting recognition on Windows 8 had problems too. A grey circle would appear from nowhere and the Computer desktop icon would be selected in the middle of writing – so the text app would become inactive in the background and not fill up with the words you'd scrawled. A flat battery perhaps? Unlikely, as it worked like a charm in the full screen FreshPaint sketching app. At first I thought it was buggy, but I wasn't scribbling hard enough – the stylus is pressure sensitive and in this domain, performs rather well, with acceptable latency.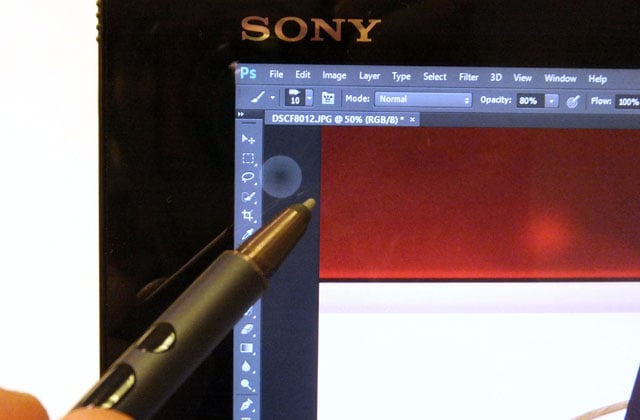 A mysterious grey blob appears randomly when the pen is in use and not even touching the screen
I gave the Adobe Photoshop CS6 trial a spin to see how the pen performed. Here, the latency doesn't appear too bad at first, it trails behind the most rapid strokes, and could sometimes get a bit tardy for no obvious reason, and this is the fully loaded Core i7 model. The latency might irk some people but not as much as finding out that the pen's pressure sensitivity doesn't work in Photoshop. An Adobe forum post highlights the issue which suggests somebody needs to grasp the nettle if this N-trig designed stylus is to be fully functional.
With all these input options, what is difficult to get used to is the simple fact that the round pen barrel easily rolls. Put it down and away it goes, and as the detachable cap can't be clipped to the back of the pen, away it goes too. There are lanyard holes at the end of the pen and cap but at £49 for a replacement, this sleek design lacks some basic practicalities that might help keep all the bits from getting lost.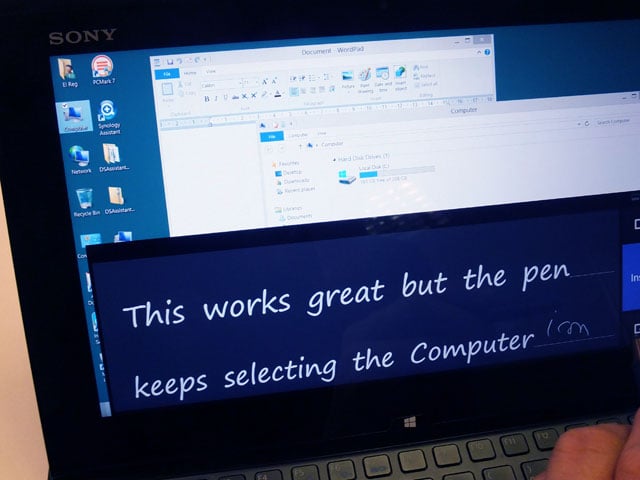 The pen repeatedly selects the Computer icon opening that window and obscuring WordPad for text entry
As a tablet, the Sony Vaio Duo 11 is a bit on the chunky side, measuring up at 320 x 199 x 18mm and weighing 1.3kg. As a result you don't get that chuck-it-on-the-bed confidence a dedicated tablet affords. However, it's small enough to stuff into a backpack although its primarily plastic construction, again, affects confidence. How well it would survive an accidental drop? That slide and tilt mechanism looks particularly vulnerable as the screen locks into place when upright. But then again, with a push, it slides down easily enough. Perhaps it's more likely to collapse into a tablet than suffer serious damage.
That reminds me, when I first came across the Vaio Duo at the IFA show last year, I couldn't figure out how to crack the thing open from tablet mode. You have to lift it up from the back, which is a two-handed affair and, unless I'm missing a trick, it's pretty much impossible to manage when flat on the desk. So no matter how much you polish the screen and its large black borders, you're almost always going to end up gazing at margins of fingerprints, but that's convertibles for you.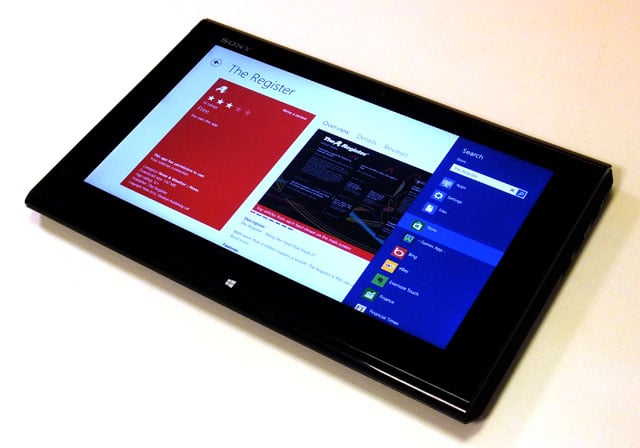 Slate mode
If you plumb in an external optical drive and run Ubuntu 12.10 from a live CD, you'll find the touchscreen doesn't work... well, it did for a moment, but as the Vaio settled from this boot-up, it never became active again. The good news is that Ubuntu could identify the Wi-Fi hardware and it worked without a hitch. Even if that had failed, having Ethernet on-board this convertible at least allows for some experimentation with different Linux flavours.
Talking of experimentation, the Core i7 model review sample needed a slew of updates which were dutifully applied and a nose around the Sony site also highlighted a firmware patch too. Getting to the BIOS/EFI section of the Vaio Duo is much like it is on the Lenovo Yoga – you enter it by engaging the restore partition boot up from the Assist button in the base. A number of options appear, including external drive booting, but this approach at least avoids frantic prodding of function keys to get to this level. I mention this because I tried to apply the update but it wouldn't take.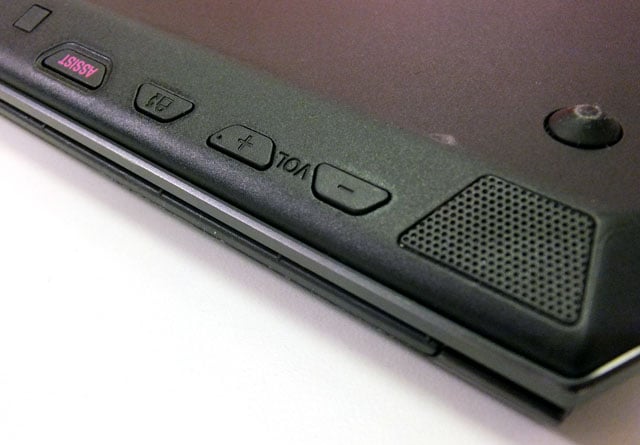 The Assist button enables a rescue partition boot up and the not so conveniently placed orientation lock is alongside
My guess was it was an early production sample or the folks at Sony had disabled changes at this level. I'd presumed the firmware tweak would deliver some advantages – perhaps the wayward stylus performance would improve? Also some of the Modern apps were refusing to update. Another, was the accelerometer which would flip into portrait mode with everyday handling and would stubbornly refuse to return to landscape without some vigorous encouragement – cursing is optional, but very likely. There is an orientation lock in the base, but fumbling for it will probably set things off.