Tweak and destroy
Anyway, a bit of fruitless fiddling around later and it still wouldn't bite. So this was followed up by some hapless fiddling around – the odd default reset here and there – and lo, I have a brick in the shape of a Vaio Duo. Oops, sorry Sony. So the next one arrived and the BIOS on this model was the same. In the interim, Sony's site had uploaded another "sustaining" update, so I tried again and again, no luck with either. Oh well. Just for the record, that accelerometer borders on unbearable at the best of times. Apparently it relies on a Microsoft driver, and hopefully there's a fix coming in some form or another.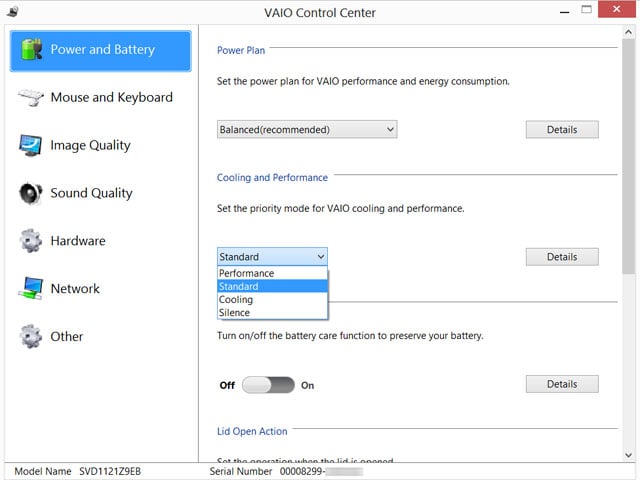 Speedy system tweak shortcuts courtesy of the Vaio Control Centre
The Vaio Duo features NFC, which I had no use for, and there's GPS too if you need it. Sony's Vaio Control Centre app provides speedy access to a range of commonly used features, and having scoured the keyboard for dedicated controls to alter the Duo's backlighting, I eventually found the functions here. Handy power and performance modes can be switched over too, without trawling through the Windows options. In balanced/standard mode, the Vaio Duo 11 clocked up a PCMark 7 score of 4731 with the best performance settings notching this up to 4893.
Incidentally, start-up is typical of a Windows 8 machine with an SSD, namely, pretty darned quick – about six second to the login screen. Sony doesn't give a battery life figure but you'd need to some pretty frugal power adjustments to manage five hours out of it and HD video will playback will deliver only half that. There's the VGP-BPSC31 sheet battery option too, that clips on the base which Sony claims doubles the duration and will set you back around £119.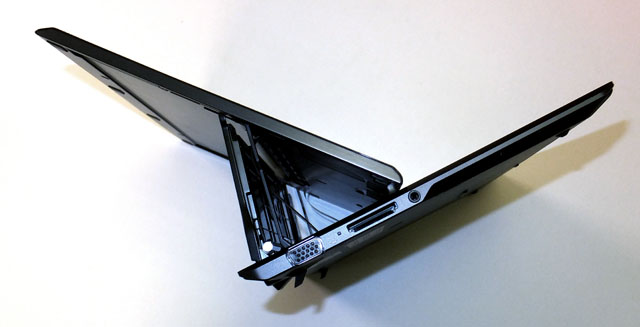 At least deckchairs allow for angle adjustment, the Vaio Duo has just one upright position
And so to bed. A true test of a laptop is surely lazing around watching a movie. OK, so we've got Dolby Home Theater V4 here with presets for music, movies and gaming which don't sound too bad actually. Not exactly booming, but spacious and not too harsh. And we've got that bright, crisp 1920 x 1080-pixel screen – what's not to like?
Well, what do you do when you recline? You change the screen angle to avoid image shading, right? Not on this baby as the viewing angle is fixed. It's absurd and those little feet don't do enough to compensate either, so you either need to prop it up at the back or use it in tablet mode with a stand. Is this a ruse to keep the business traveller glued to e-mail rather than unwinding with some light entertainment? What about on a plane or train? Tablet mode doesn't wash for serious work.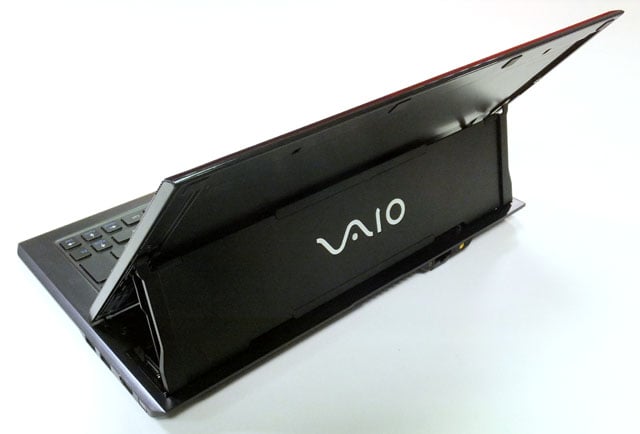 All the right connections, but a fair share of quirks too
The Reg Verdict
Despite all its functionality and inventiveness, the Vaio Duo 11 appears to be a product design that became so focused on touch tech that it lost sight of the screen. It's powerful, well connected and highly portable too, but in some basic areas, it's just not that usable. ®

Review: Sony Vaio Duo 11 Ultrabook
Fully loaded Windows 8 Pro convertible Ultrabook with an Intel Core i7 CPU, 256GB SSD and a full HD 11.6in touchscreen and a stylus to boot.
Price:
From £919 (Core i3), £1456 (Core i7 review model), £119 (VGP-BPSC31 sheet battery), £49 (spare VGP-STD1 stylus) RRP