MWC 2013 Unlike digestive biscuits, mobile phones do not react well to being dunked. With perhaps this in mind, two companies at Mobile World Congress claim to have the best technologies for treating phones to make them waterproof.
Ruggedised mobes at the bottom of fish tanks have appeared at MWC before, but what makes this particular tech special is that it is a treatment that will work for all phones: you don't have to make sure all the seals are tight before introducing your phone to the morning brew - or the lunchtime swift half.
The process uses vapour disposition of a Teflon-like fluorocarbon-based coating to safeguard the insides of a mobile phone - or any treated material - from a dose of H2O.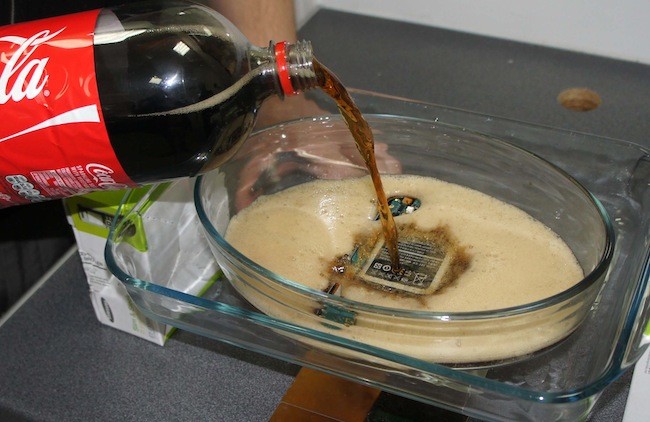 "Mate, I asked for DIET coke!" overheard at P2i's stand at MWC 2013
British company P2i has been making phones splash-proof for a while, and there are more than 10 million phones using its coating in circulation, we're told. Most manufacturers keep schtum about having applied the coating; they do it to reduce the return rates on phones and publicising the water resistance would lead to more returns.
What's new for them at Mobile World Congress is the move from splash to dunk. This means a phone can survive up to thirty minutes in a metre of water. This is analogous to the IPX7 standard, but as that requires no water ingress - achieved through seals and bungs - P2i lets the water in but protects the electronics. This is not up to the full IPX7 or IP67 standard.
But it does achieve what most people consider "waterproof", and reduces the capillary effect of close-fitting cases.
There is a big difference between dropping a phone in water when it's on and when it's off. A powered-up handset rapidly turns its circuit board into a chemical battery and the corrosion is spectacular as the metal flees from the cathode to anode. Bubbles form almost instantly. Indeed most phone insurance policies specifically exclude water damage and phones are fitted with tell-tale sensors.
The splash-proof coatings cause water to bead and roll-off. The new dunkable coating, which is thicker, stops the electrical effects. The coating is "invisible", we're assured, and it can be applied to screens and lenses apparently without causing an optical effect.
The P2i process can be carried out on the production line as the phone is assembled. The biz has apparently sold 150 of its vapour disposition machines to manufacturers around the world, and is looking for someone to work with to demonstrate the new dunk-proof coating. There are some interesting challenges as the coating does not conduct, so some parts - say the contacts for the SIM card - may need a reduced coating.
But you can't send your phone to P2i in Oxford to have it treated. For that you want Liquipel, the California-based company that will treat your iPhone. It also claims that the devices you treat will survive a test analogous to IPX7, and said it just signed a deal with sporty Bluetooth headphone company Jaybird to treat its headsets.
This won't let you swim in the gear, but it should be moisture and sweat resistant. Liquipel said anything up to deliberate immersion should be fine, so jet-skiing is OK but scuba is not.
The big Liquipel announcement for the week is a "tower" that will be sold to big retailers to allow them to treat phones and tablets on the premises. They could also treat stock before selling it to add value, or offer a service for people to take their phones in and get them treated. The process takes about 20 minutes, but the machine holds between 60 and 100 phones or tablets, so you'd need to wait until the shop had enough to justify switching it on. Liquipel reckoned retailers will offer a dry-cleaning-like model of "hand in your mobe by 10, get it out by 2", and tout loan phones.
Both companies are coy about the costings as it's a lease and royalty model. Essentially, the fee will not be very much per phone - but a hefty amount for the capital equipment. The typical retail cost of having a device treated by Liquipel is $60 a phone and $100 a tablet.
But at least your hydrophobic mobile will thank you the next time you spill your pint over it. ®
Sponsored: Ransomware has gone nuclear