This article is more than 1 year old
Ten smartphones with tablet ambitions...
...or small tablets that want to be phones...
Product Round-up How we all laughed when Samsung launched the Galaxy Note toward the end of 2011. Who could possibly want a phone with a 5.3-inch screen? It turned out rather a lot of people did, and the unqualified success of the 4.8-inch Galaxy S III and 5.6-inch Galaxy Note 2 proved that what many punters want is a phone with a really, really, really big screen. A tablet and phone in one, in other words.
All hail, then, the rise of the 'phablet' - a stupid word, of course, but one that now seems firmly lodged in the parlance of our time.
A day spent wandering around the exhibition halls of this year's Consumer Electronics Show (CES) in Las Vegas underlined the fact that the Note is only the tip of the iceberg. According to market watcher IHS iSuppli, 60.4 million phones with screens of five inches or more between the corners will find a home during 2013, a 135 per cent rise over 2012's total. By 2016 world+dog will supposedly be buying 140 million of these monsters.
And it's not just the screen sizes that got bigger at CES. Everywhere you looked there were devices with 1080p resolution displays. On a 5-inch screen that equates to a 441 pixels per inch dot density. The reign of the 720p superphone has ended almost as soon as it began.
Sadly for fans of Apple's mobile operating systems, and of Microsoft's, the cupboard is bare. It's hard to imagine that a Windows Phone 8 device with a 5-inch screen won't arrive before the end of 2013 so, for the time being, the best on offer is the 4.8-inch Samsung Ativ S. As for Apple, there are rumours of a new 5.0-inch iPhone six months or so down the line but who knows how reliable they are.
Time then to poke the Android phablet anthill with a stick and see what comes angrily spilling out. I should say in advance that I've only had a brief fiddle with some of these devices so the final products that wash up on Blighty's shores may not be quite the same. Here is what to expect.
Alcatel One Touch Scribe HD
Alcatel was the surprise of CES 2013, coming from nowhere to display a raft of phones, phablets and tablets that were really rather impressive. Many pundits thought the highlight was the Scribe X with its 5-inch, 1920 x 1080 display, quad-core 1.4GHz processor and 12Mp camera, but it was the lesser 5-inch, 1280 x 720, IPS LCD Scribe HD that caught my eye. The reason: I suspect it will be as cheap as chips when, or indeed if, it goes on sale in the UK while still offering a pretty decent specification.
Running on a 1.2GHz quad-core MediaTek MT6589 chip with 1GB of RAM, the Scribe HD comes with 4GB of storage, a MicroSD card slot and a usefully beefy 2500mAh battery. Apparently it has been designed in such a way that the chip doesn't suffer from the overheating that Alcatel reckons affects some of its quad-core rivals - Nexus 4, I guess they are looking at you here. The plastic body wasn't the most impressive thing I've ever had in my hand, but I'm guessing it will cost much less than any handset here apart from the super-budget Kogan, assuming Alcatel doesn't go tits up in the meantime.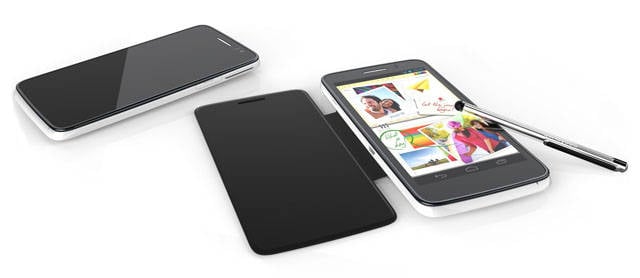 Asus PadFone 2
The PadFone 2 grabs the phablet concept by the short and curlies, and drags it off into the woods for a good seeing to. A device of two parts, Harry, it consists of a 4.7-inch 1280 x 720 phone that can slot into the back of a 10.1-inch tablet. Unlike the Mk. 1 PadFone that never made it to these shores, there is no inconvenient hatch to open before you dock the phone - you just slide it into the grooved receptacle on the back and - wallop - you have a 10-inch phone with a 1280 x 800 display. And you can still use the phone's 12Mp camera.
The PadFone 1's clever but apparently seldom used combo stylus/earpiece hasn't been carried over, but you can still make calls when docked, either with a Bluetooth headset or through the tablet's speaker and mic. Or you can answer a call by simply sliding the phone out of the dock. With a 1.5GHz quad-core Qualcomm Snapdragon S4 Pro chip, 2GB of RAM, 2140 and 5000mAh batteries, the PadFone 2 can handle the sprint and the marathon, and is arguably the perfect solution to the one device, one data plan, all uses conundrum. Expect an official announcement about UK availability this week at Mobile World Congress.