One-trick software pony Commvault has finally pushed out a raft of updates with Simpana version 10.0 in the hopes of broadening its user base in the biz data backup, archive and search game.
Simpana 9, the previous generation of the software, came out in October 2010 - so we've had to wait almost two-and-half years for gen 10. And there's an awful lot of it. Where to start?
First, it has a ContentStore virtual repository.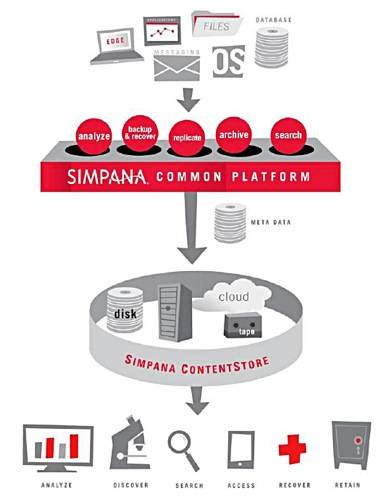 This combines local disk and tape-stored information with vaults of the stuff in the cloud into a single, virtual hardware-agnostic repository with a single index. CommVault says: "Within the ContentStore, granular and customisable access controls, single sign-on, FIPS certified encryption, alerting, and audit trails keep your information secure".
The ContentStore is "interrogated" by various Simpana tools, which get at the information inside and manipulate it. CommVault has enabled smartphones and tablets to access ContentStore with self-service access using the "Edge" mobile app.
There is a school of thought that says smartphone and tablet access to enterprise content vaults is just a flashy toy that nobody will use for serious work - which requires a keyboard. But that remains to be seen. CommVault says that with the new app, users "can download, view, edit, and share the protected information from your computer's backup." Supported Edge devices include:
Android smartphones and tablets
iOS smartphones and tablets
BlackBerry tablets
The Edge part of Simpana (PDF)is more than the mobile app, says CommVault. It delivers "centralised laptop/desktop data protection" and features "global, source-side deduplication, opportunistic scheduling, network bandwidth throttling, policy flexibility, automation, [and] integrated indexing capability."
There are also plug-ins in ContentStore for access from Outlook, VMware's vCenter and Windows Explorer, plus a web console. We're told: "The Simpana 10 web console allows authorized individuals to run and configure backup policies as well as find and restore files from any backup that they have access to, from the original client, including natively from Windows Explorer, other clients, Andriod and iOS smartphones and tablets and BlackBerry tablets."
Data gets into the ContentStore through an uprated deduplication process, CommVault's fourth generation dedupe. This features what CommVault calls Parallel Deduplication, which consolidates multiple deduplication nodes under a single global reference pool. You can deduplicate across multiple data sets, and multiple storage policies. Also you can "create unique deduplicated copies of data with independent retention policies, and store onsite, at remote sites, or even in the cloud without having to rehydrate the data using Deduplication Accelerated Streaming Hash (DASH Copy)."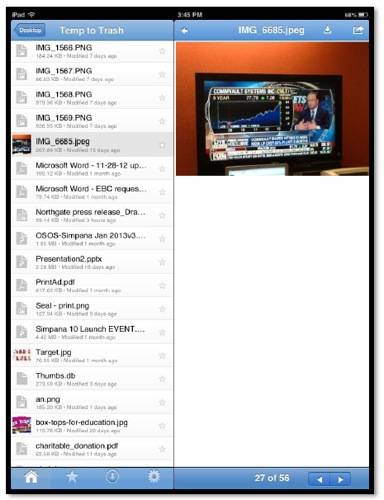 Simpana 10 Edge Mobile App on tablet.
Other new Simpana features include:
Enhanced IntelliSnap snapshot management, formerly called SnapProtect, with new support for "Windows Server 2012 with Hyper-V; enhancements to IBM DB2, Lotus Notes, SAP and Oracle integration; converged snapshot and backup policies that simplify operations; and snapshot cloning orchestration that speeds application testing, development and business analytics."
Simpana OnePass with Exchange, which converges backup, archiving and reporting into a single process. A Microsoft Outlook plug-in enables end users to reduce the time it takes to search, view and recover archived emails by accessing emails retained in ContentStore directly from Outlook.
In general there is "tighter integration with Microsoft Hyper-V, VMware vSphere 5.1 and vCloud Director 5.1 [which] helps enterprises achieve cloud scale through automated discovery, protection and recovery in virtualised environments.
Overall CommVault says Simpana 10 doubles backup and archive performance and also scale when compared to the previous iteration. CommVault claims it can cut "storage-related costs by up to 50 per cent, reduce administrative overhead by up to 80 per cent and lower total support costs by up to 35 per cent."
There's more about this huge Simpana 10 release here (many PDFs). ®