A new organisation led by Dennis Tito - the world's first space tourist - wants to send an older couple on an all-expenses-paid 501-day trip to Mars.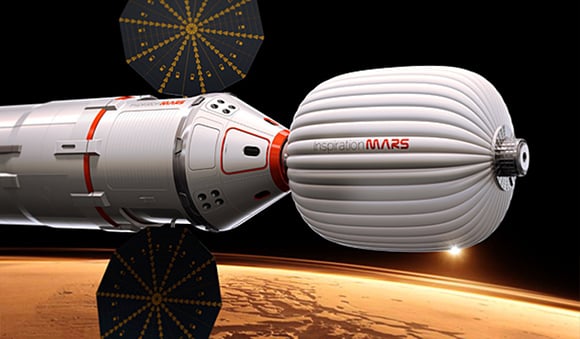 How the Inspiration Mars spacecraft could look
Mega-rich engineer Tito announced yesterday that his Inspiration Mars foundation is looking for a man and a woman beyond child-bearing years, preferably married, to take off on the psychologically gruelling journey to the Red Planet in just five years time.
"When you're out that far and the Earth is a tiny, blue pinpoint, you're going to need someone you can hug," he told Space.com. "What better solution to the psychological problems you're going to encounter with that isolation?"
Tito says he'd prefer a man and a woman and they'd better represent the human race - presuming ET is interested in our genders. The married bit is presumably about a proven ability to withstand each other's company, and the elderly, non-child-bearing bit is because radiation exposure can affect the reproductive organs.
The whole madcap plan is made marginally more possible by the fact that the planets will literally be aligned for the trip, making what should be a two to three year space odyssey possible in just under 17 months.
The private astronaut couple will be able to do a "fast, free-return" mission, passing within a hundred miles of Mars before slingshotting back to Earth. Doing things this way means there are no critical propulsion manoeuvres necessary after leaving our home planet, no entry into the Martian atmosphere and no docking with any other spacecraft.
"The beauty of this mission is its simplicity," Tito explained in a canned statement.
On top of the relative ease of the journey, the launch opportunity is also happening during the 11-year solar minimum, giving the 'nauts the lowest solar radiation exposure.
"The mission will help create public awareness, enthusiasm and momentum for a long-term commitment and vision for space exploration beyond low-Earth orbit… all the way to Mars," he said.
"Clearly, there are risks associated with the mission, as is true of every space exploration mission. But these are exactly the kinds of risks that America should be willing to take in order to advance our knowledge, experience and position as a world leader. We believe the risks and challenges we have identified are well within the scope of our collective experience and can be overcome to achieve a safe and successful mission."
However, the foundation used the SpaceX Dragon capsule and the Falcon Heavy rocket as examples in its feasibility study (PDF), but neither bit of space gear is ready and able for the trip as of yet. The mission also doesn't have the life support systems and radiation protection necessary to keep the crew alive because they don't exist yet, so their development may represent something of a stumbling block.
"With the support of NASA and an evolving team of industry partners, we intend to do everything possible to take advantage of this unique opportunity for America," Tito said hopefully.
"We are engaging the best minds in industry, government and academia to develop and integrate the space flight systems and to design innovative research, education and outreach programs for the mission."
If Inspiration Mars misses the 2018 window, it won't get another chance at a free-return Martian expedition until 2031.
The foundation will attempt to get the mission off the ground with the help of Applied Defense Solutions, Paragon Space Development and Dr Jonathan Clark at the Centre for Space Medicine at Baylor College, as well as NASA, through the agreement between Paragon and the Ames Research Centre. ®