This article is more than 1 year old
Apple takes aim at accessory makers, files iPad stand patent
Just what the world has been clamoring for – now with magnets
If you were among the 25,000 or so Apple faithful who crowded the exhibit hall at this year's Macworld/iWorld "Ultimate iFan Event" a couple of weeks back, you're certain to agree that the last thing the iMarketplace needs is yet another iPad stand. Apple, however, disagrees.
As part of its weekly patent-application release, the US Patent and Trademark Office published "Magnetic Stand for Tablet Device" on Thursday, which describes "a way for securely attaching a tablet device to a stand where it can be removed and replaced with ease."
Not that iPads can't currently be removed and replaced with ease from the squillion-or-so iPad stands that currently extant, of course. But Apple's USP is that it's not using such crude attachment schemes as clamps or clasps. No, it's employing the Magic of Magnetism™.
We just made up that trademark – even Apple is not that over-the-top.
Here's Apple's brainstorm: every iPad since the iPad 2 has had magnets within its case that allow matching magnets in Apple's iPad Smart Cover to snap that cover into place magna-magically, without the need for pesky fasteners. Apple's new patent application takes advantage of those internal magnets, using them to secure an iPad to any number of possible mounting devices – music stands, desktop tripods, treadmills, car interiors, whatever.

Not just iPad stands, magnetic iPad stands
The application, by the way, was originally filed at the end of August 2011. We're not exactly sure why it would take the USPTO 18 months to publish such a simple idea, but we have heard that they're understaffed and swamped these days.
To be fair, the application does describe one bit of interesting – if straightforward – technology: a metallic shield that prevents a stand's magnets from interfering with surrounding items, and which the application claims "allows for significant increases in magnetic field strength when compared to similarly configured, unshielded products."
The application also describes how the magnetic tablet stand – or tablet holder, more accurately – could be used in an automotive setting. In one embodiment, as patent writers like to say, the holder could be mounted in a car's roof frame, where a tablet could snap in and hang downward in the area of the windshield now occupied by the rear-view mirror.
One assumes that in such orientation, a bumper-mounted, rear-facing camera would be used to provide drivers with a view of what may be bearing down on them.
The automotive-installation use model, the filing suggests, could include automatic sensing and communication with the car's Bluetooth and Wi-Fi systems, and would offer the extra benefit of allowing you to remove the iPad and take it with you after you park, thus thwarting would-be thieves.
There's another embodiment of the magnet-based attachment idea we find to be of more interest than mere iPad-stand implementation – and one that if marketed successfully could potentially double iPad sales: using a magnetic coupler to meld two iPads into one.
In this configuration, the two tablets could work together cooperatively, the filing suggests, communicating over either a wired or wireless channel. According to the application, the increased magnetic strength would be sufficient to hold one of the tablets in a laptop-display orientation if the second one were to lie flat on a desktop, functioning as a keyboard.
Alternatively, the filing suggests, the two tablets working together could "allow activities like book reading," presumably allowing you to hold the two as if they were a book, and to flick pages from one tablet to the other – remember, Apple was granted a design patent last November for the animation of a turning page.
As attractive as the dual-iPad combination might be, and as interesting as the possibility of strengthening magnetic force through targeted shielding might be, The Reg is left with the feeling that the market for iPad stands is a rather well-stocked one already.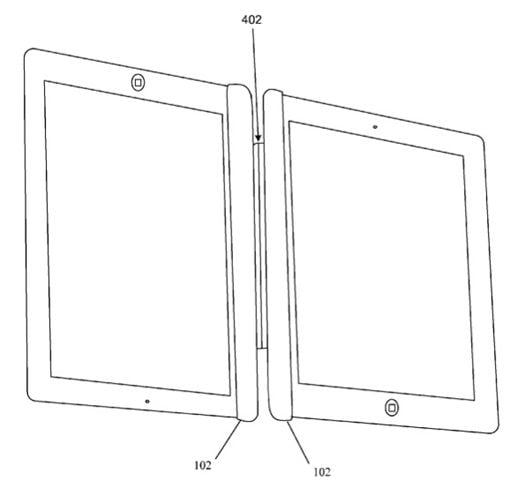 At a base price of $499 per iPad, this could be one expensive e-reader
For example, Apple's use-case examples are already well served. For example, IK Multimedia's iKlip and iKlip 2, Griffin Technology's Mic Stand Mount, CrisKenna's Xclip, and RAM Mount's eponymous RAM Mount are all designed to be used as music stands when attached to microphone stands. Scosche's fitRAIL "attaches to almost any type of workout equipment," including treadmills, and Ten One Design's desktop Magnus stand, like the devices described in Apple's patent application, uses the iPad's magnets to hold the user's treasured fondleslab in place.
But that dual-iPad device with one fondleslab as a display and the second as a keyboard? Intriguing – and we have the perfect name for it: a laptop. ®