ARM servers: From li'l Acorns big data center disruptions grow
Shuttleworth says 'vast tracts' of legacy apps 'just don't matter'
---
The ARM collective doesn't just want to get into the data center. It wants to utterly transform it and help companies "manage down the legacy" of existing systems, as Ubuntu founder Mark Shuttleworth put it during a live chat hosted by ARM Holdings to close out the Mobile World Congress extravaganza in Barcelona on Thursday.
"I don't think there is going to be huge demand for Oracle and SAP on ARM," Shuttleworth explained on the chat. "I think there are vast tracts of historical enterprise legacy applications that just don't matter, and I think the ones that are really interesting are already working to bring themselves to places where scale out is the preferred architecture."
Shuttleworth gave a nod to legacy apps – but it was a shallow on, "Maybe there are some proprietary applications in there," he said, "but there's a lot of open source in there and that is where I think the real value will be created. Folks see the legacy as something that they manage down. People have been doing that forever. They managed down on the mainframe, they managed down on Unix and Oracle databases. But what we have got to focus on is the growth part of the market, and that all looks [different] – the landscape there is much flatter than the traditional IT story."
Shuttleworth was among a number of speakers that Ian Ferguson, vice president of segment marketing at ARM Holdings, and Lakshmi Mandyam, director of server systems and ecosystem at the chip designer, invited to answer the question: "Why ARM in servers?"
Jon Masters, chief ARM architect at commercial Linux distie Red Hat chimed in, and so did Tim Wesselman, who is senior director of ecosystem strategy at HP's hyperscale business unit.
Wesselman said that there are four things that make ARM processors suitable in the data center – which means not just servers but storage and network devices, as well.
ARM's leadership in low-power operation is an obvious benefit, Wesselman explained, particularly among online application or service providers where their IT infrastructure and the apps that they create to run on top of them are, in fact, the entire business and getting efficiencies means being able to stay in business.
But there's more than that. ARM has a "broad ecosystem of partners that are competing in a really positive way to differentiate themselves off that common, core ARM technology. This leads to faster innovation cycles and more diversity, and better economics in many cases," he said.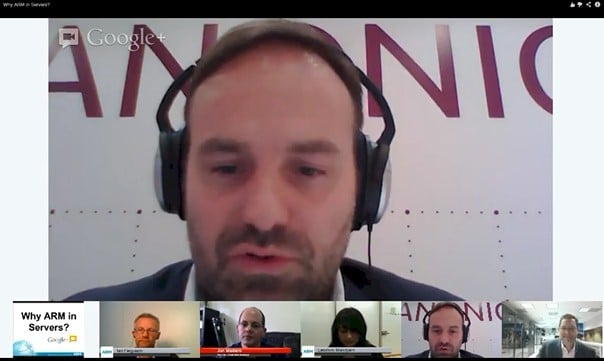 Ubuntu founder Mark Shuttleworth talks ARM servers at Mobile World Congress
The other neat bit about ARM and other system-on-chip designs, Wesselman said, was to enable "application-specific tuning" of SoCs, moving away from the monolithic, high-volume, general purpose x86 platforms that dominate the data center today. You can only get this specialization because ARM is an open and malleable architecture (so long as you license the technology from ARM Holdings), and you cannot get it from any other server chip architecture today.
"We are going to more closely couple the server hardware to the server workload," Wesselman predicts. "This is really appropriate for some of the markets that we are targeting."
When you are buying servers in lots of tens of thousands to run your own applications, it makes sense that you can afford to customize your own servers. Google has been doing it for many years, and Amazon, Facebook, and Rackspace Hosting, among many others, followed suit.
To be perfectly fair, Oracle bought Sun Microsystems to do precisely the same thing – match its software to precise hardware and tune the hell out of it – and IBM has for a long time done this with its Power Systems and System z mainframes running its own systems software.
To a large extent, customers writing applications on top of these systems tuned their apps for those systems as best they could. But ARM thinks hyperscale data center operators will take this up another notch, and perhaps, if history is any guide, the rest of the IT industry will follow in this practice.
It may be only rich online companies where the data center is the business that can afford such customization. And it doesn't matter to ARM Holdings – or HP, Red Hat, Canonical, or anyone else – as long as this part of the market is large enough to buy lots and lots of servers.
And it very likely will be plenty large enough. Just about a quarter of the world likes malleable open source operating systems (Linux with a smattering of a few open source Unix variants), and it stands to reason that around the same share of customers will want precisely configured servers to run their homegrown workloads.
The reason they can quickly adopt ARM servers is because they are in control of their own application stacks either directly, like Google and Facebook, or indirectly, by using vendors that write code in Java, PHP, Ruby, or other languages that run way above the underlying iron.
"Now is just a great time for this," said Masters, referring to an ARM assault in Server Land, "because a lot of the applications we are running are doing so on higher-level scripted languages and interpreted languages. We don't have the kind of architectural pinning that we used to have historically. So why not now? There's a really good opportunity here to transition to new architectures and try new things out."