With opposition leader Tony Abbott declaring unchallenged that the NBN is going to "triple the costs" of access to broadband over the weekend, The Register decided to do some plan searching and come up with a comparison.
The quote that got us busy can be found here:
"Malcolm [Turnbull] is the Shadow Minister for Communications. He's doing a really good job of exposing the fact that the National Broadband Network is a complete white elephant. He's doing a very good job of promoting our real solution, which is national broadband that doesn't involve digging up every street to deliver fibre to the home whether you want it, need it or can afford to pay three times the current price for it."
(Emphasis added.)
While the coalition's larger point is that NBN Co's financial projections mean consumers will spend more on broadband in future, some of that future increase can be attributed to natural cost increases, while some derives from an assumption that households will consume extra services over the network. That leaves the "three times the current price" true, in a sense, but also a sound bite likely to give consumers the impression that NBN Co arriving on their street will put a dent in the family budget.
That latter impression is hard to sustain after looking at the 12 retailers currently offering NBN services (others have signed up but aren't yet offering consumer services, or are only at the trial stage), and the 191 individual plans they collectively offer. Of those, eight also offer ADSL2+ services.
So it only takes a little time suffering boredom to come up with a comparison.
For this comparison, The Register used standard ADSL2+ services as the comparison to the NBN. For naked DSL services, the plan price was used; for other services, the basic Telstra HomeLine price – $22.95 – has to be added to the service price.
The results are in the table below.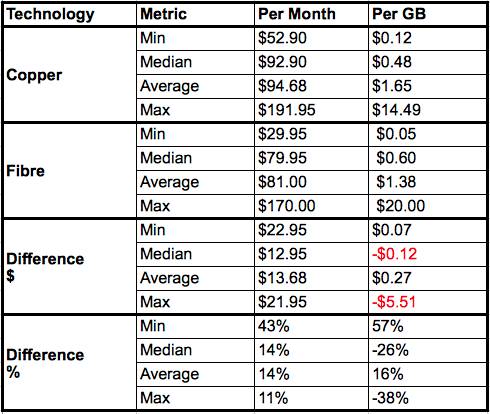 It's interesting, actually. Partisans on both sides will claim that the NBN fibre services are either (a) more expensive or (b) cheaper than copper. Actually, it's a bit of a jumble, depending on whether you're measuring the raw monthly price (the NBN wins hands-down) or the value on cost per GB of downloads.
At $29.95, the cheapest NBN plan available is $22.95 cheaper (43 percent) than the cheapest ADSL2+ plan including the line ($52.90). In fact, NBN plans are cheaper across the board, measured on monthly fee alone.
Data downloads are mixed: the NBN offers the cheapest GB of downloads and a lower overall average cost per GB, but the median NBN GB is more expensive, as is the most expensive.
In neither direction is there anything even remotely approaching "three times" as much. But had Mr Abbott's advisors been awake and reading the news on Sunday morning, they'd have known this already, because this study was published in Fairfax.
"The survey, of users in one of the early sites at Brunswick in Victoria, found that "63 percent of households that had joined the NBN reported their internet bills had either stayed the same or decreased. About 26 per cent said their bills had increased somewhat", the story states. ®
Similar topics
Broader topics