This article is more than 1 year old
IBM builds next-gen cloud control freak on OpenStack
Riding out of Folsom on a Grizzly to a Smart(er)Cloud
The handwriting was on the wall that IBM would be choosing OpenStack as its cloud control freak of choice when Big Blue joined the OpenStack Foundation last April. The IT giant has been quiet about its intentions for OpenStack, but at the Pulse 2013 event for its Tivoli systems management brand in Las Vegas, the company's top cloud brass said that OpenStack will be the foundation of its SmartCloud tools for creating private and public clouds – including the public cloud by the same name that IBM runs on behalf of customers.
IBM built its SmartCloud Entry cloud control freak a few years back because there was no obvious open source alternative that would become the Linux of heavenly infrastructure, Drew Flaada, director of cloud solutions and OpenStack development at IBM's Systems and Technology Group, explained to El Reg. The SCE tool is the one that is packed up with its PureSystems converged, modular systems and it can control freak server nodes using IBM's Power processors and its PowerVM hypervisor as well as x86 systems using a variety of hypervisors.
The tool was meant to bridge the gap between server virtualization and full-on cloud orchestration with more sophisticated virtual storage and networking, and yet providing deployment, virtual machine image management, metering, and billing capabilities.
"There was a huge gap between these very large cloud management structures and customers who were just looking to take basic server virtualization management to the next level" explains Flaada, including those based on the controller at the heart of SCE that had been beefed up with various Tivoli image and change management tools and other add-ons such as SmartCloud Provisioning.
IBM didn't just join OpenStack last spring because it wanted to keep tabs on what this control freak, formed by NASA and Rackspace Hosting from their cloud operation tools in July 2010, was doing. Rather, explains Flaada, IBM joined OpenStack and ultimately chose it as a future cloud platform, for both infrastructure and platform clouds, after a lengthy technical review.
IBM has been pretty secretive about where the SCE tool came from, and it turns out that it was created internally by the Systems and Technology Group and it is not – despite how funny that might be – based on OpenStack or indeed any other open source cloud control freak.
"We started looking for some of the core elements that you would need for a more sophisticated cloud management layer, and as we did that, we discovered that IBM was actually developing multiple versions of doing the same thing," says Flaada.
"So we unified our approach across IBM," he said, "and in our investigations on the best way to approach that more sophisticated tool, we came upon OpenStack and did a lot of due diligence and high-level analysis on what OpenStack would provide for us. So looking forward, OpenStack will be the foundation on which we build, just as Apache was for the WebSphere product line."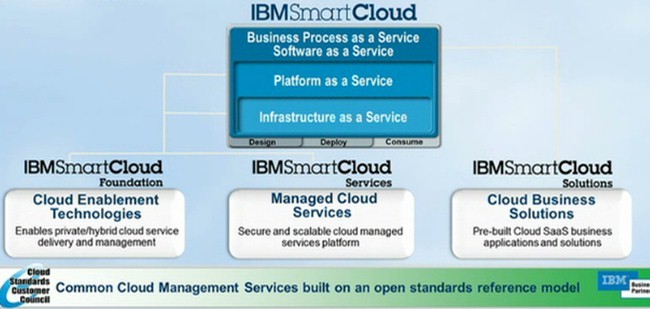 Big Blue thinks that everything it does in cloud is smart
The idea is to take OpenStack, which is now robust and scalable enough for enterprise consumption, and contribute to the OpenStack project to make it even better. Executives at Monday's Pulse 2013 event said that IBM had over 500 IBMers contributing to the OpenStack project, that it has over 3,000 employees trained up on how to implement cloud control freaks (of all kinds, not just SCE and OpenStack), and that it has a customer advisory council of 400 different companies that it is using to help it determine the feature set for the future OpenStack-based SmartCloud control freakage.
The first step that IBM will take is to turn OpenStack into something called SmartCloud Orchestrator. This will add runbook automation and a policy-based management engine to OpenStack as well as taking server configuration "recipes" and "cookbooks" written using the Chef tool and the "patterns of expertise" deployment methodologies from IBM's PureSystems family of servers and integrating them both with OpenStack.
IBM loves all of its servers platforms, and Flaada said that one of the things Big Blue will do is make OpenStack able to play nanny for Power Systems machines running its own AIX or IBM i operating systems, or Linuxes from Red Hat and SUSE Linux as well as the obvious System x rack and PureSystems modular servers based on x86 processors and running either Windows or Linux. Mainframes will be supported over time, as will a broad array of IBM storage arrays.
The initial work on this future SmartCloud Orchestrator will be based on the current "Folsom" release of OpenStack, which was released last September, but the full-on version of SmartCloud Orchestrator will be based on the future "Grizzly" OpenStack release that is due in April this year.
Flaada was vague about when SmartCloud Orchestrator would launch, merely saying it would be in beta soon and generally available "later this year."
It is not clear when IBM plans to roll OpenStack-based SmartCloud tools into its own public cloud, which is also called SmartCloud and which had doubled in 2012 to over 5,000 customers.
One last thing. For customers and service providers who do not want the full-on SmartCloud Orchestrator, the SmartCloud Entry tool will continue to be available for both Power and x86 platforms. ®