NASA overcame the glitches that plagued the SpaceX Dragon's most recent berthing with the International Space Station - but it still has other worries, according to the space agency's administrator Charles Bolden.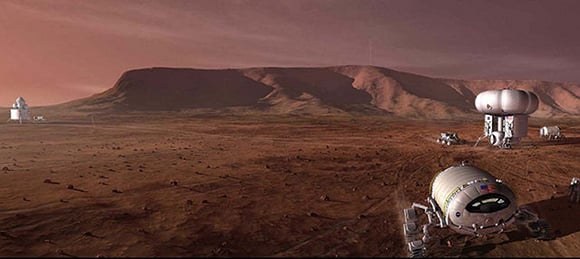 Plenty of sun, sea and sulphur here on Mars
Bolden has said that recent political events in the US forcing the President to sign a sequester (incorporating across-the-board governmental budget slashes) into law could affect NASA's plans to send people to an asteroid by 2025 and to Mars in the 2030s.
Despite Obama's reservations that the spending cuts in both defence and non-defence budges will be "deeply destructive" to the country's economic and national security, he was forced to sign them into law on Friday after he failed to reach a deal with congressional Republicans to cancel the automatic reductions.
The sequester was created during the 2011 debt ceiling battle. It was an attempt by the White House get a divided Congress to work together to come up with a deal to save $1.2 trillion on the deficit over 10 years. The idea was that by putting in $85bn worth of cuts that would be painful to both sides, the congressional supercommittee of Republicans and Democrats would have to play nicely and hammer out another deal before it was triggered. But stubborn Congress members won the game of "deficit chicken" when it kicked in on Friday.
Obama had affirmed NASA's goals of sending a manned mission to an asteroid by 2025 and trying to get folks to the Red Planet in the 2030s, but if the government can't come up with a new plan, budget cuts are likely to delay the missions.
"We continue to develop the space technologies to make these missions possible even as we marvel at the ingenuity of our commercial partners in taking us to low Earth orbit on a regular basis," Bolden said in a canned statement. "Unfortunately, all of this progress could be jeopardised with the sequestration ordered by law to be signed by the President Friday evening.
"The sequester could further delay the restarting of human space launches from US soil, push back our next generation space vehicles, hold up development of new space technologies, and jeopardise our space-based, Earth observing capabilities," he added.
Bolden used the Dragon's difficulties to point out that space exploration is no easy task.
"Launching rockets is difficult, and while the team faced some technical challenges after Dragon separation from the launch vehicle, they called upon their thorough knowledge of their systems to successfully troubleshoot and fully recover all vehicle capabilities. Dragon is now once again safely berthed to the station," he said.
The space agency head was also at pains to mention the value of a well-funded space programme.
"We must remember that all of our investments in space are creating good jobs here on Earth and helping to inspire young people to pursue careers in science, technology, engineering, and math," he said.
NASA's budget faces a nine per cent reduction from the sequestration cuts. ®
Similar topics