While the lion's share of the world's six billion mobile phone users are still on plain-old feature phones, sales of those handsets' smarter successors will become the majority in 2013, according to the latest predictions from IDC.
The analyst house reports that for the first time, 50.1 per cent of all mobile sales are expected to be smartphones this year, with China leading the world in sales but India showing the fastest growth of any market.
"While we don't expect China's smartphone growth to maintain the pace of a runaway train as it has over the last two years, there continue to be big drivers to keep the market growing as it leads the way to ever-lower smartphone prices and the country's transition to 4G networks is only just beginning," said Melissa Chau, research manager at IDC Asia/Pacific.
"Even as China starts to mature, there remains enormous untapped potential in other emerging markets like India, where we expect less than half of all phones shipped there to be smartphones by 2017, and yet it will weigh in as the world's third largest market," Chau said.
IDC predicts the UK will be the biggest grower in Europe over the next five years, with more people expected to dump their older handsets now that the government has belatedly sorted out LTE deployment. But the relative maturity of Western markets – not to mention their stalling economies – means that mobile phone manufacturers must look East to survive.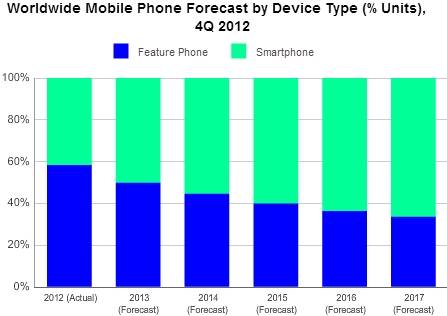 The future's smart
Among the major handsets manufacturers, Samsung has something of a home advantage in Asia and Apple is making inroads into China with the iPhone – although the latter is an expensive purchase for most locals. There are persistent rumors that Apple is planning a cut-down version for these new markets, but if Cupertino can't bring itself to go downmarket, local suppliers will be more than happy to meet demand.
Huawei has only been in the smartphone business for a few years, but the Middle Kingdom manufacturer is already the third biggest company in the market, with a 60 per cent rise in sales last year and big plans.
The other big local player is ZTE – in fifth place in IDC's global rankings and threatening Sony for fourth – and Lenovo is showing promising growth in its home sector.
Sony isn't happy with its faltering position and has said it wants to be number three in the market – always a somewhat painful corporate rallying cry. It plans to develop a plethora of phones for developing smartphone markets in BRIC nations to regain share and to refocus on the sector.
But the future is considerably less perky for others. Both Nokia and RIM have footholds in Asia (Motorola much less so), but it could be software that causes the most problems for the two smartphone manufacturers who once ruled the roost in the smartphone sector.
Nokia used to be very strong in Asia and India with its feature phone models, but corporate shenanigans and the switch to Windows Phone have hurt it badly. The company used Mobile World Congress last week to launch some interesting handsets and ideas for the future, but there are plenty of smaller local vendors eating into its market share.
RIM too has a solid market base that helped keep the company growing slightly during CEO Thorsten Heins' busy year, but its user base is buying budget handsets and using BBM. How keen they'll be to shell out for advanced kit remains to be seen – a lot depends on getting local apps out there fast.
Certain Western phone manufacturers have been rather too complacent about the Chinese and Indian markets, with some executives seeming to think it was a slam-dunk that newly affluent consumers would automatically want to buy their brands. Buying local, however, is proving much more popular and Westerners are now facing a hard scrabble ahead. ®