The final verdict: too many bugs or a beta that's just right?
Unity also gets a couple more customisation possibilities, such as an optional Launcher button to reveal the desktop and an option to remove the Workspaces button from the Launcher. By the time the final release rolls around the latter will be gone by default so the customisation will be to enable, not disable, Workspaces. But for now it can be disabled if you don't use Workspaces.
Other small new features include an easier-to-see focus outline when switching apps with alt-tab or looking for a particular window. Unity now outlines the window that's about to get focus with a red glow.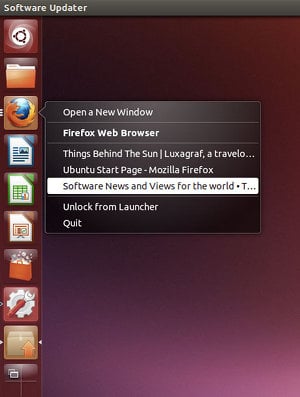 Make sure you haven't got anything odd open before popping up this browser list menu in front of colleagues
Right-clicking an application in the Launcher will now bring up a list of open windows, giving those who prefer to use the mouse a quicker way to navigate between apps and windows.
The Software Updater app has received a slight design makeover that makes it a bit more user friendly by grouping updates into relevant sections. For example system updates fall under "Ubuntu Base" while Firefox gets its own section that - when - expanded, reveals updates for both the browser and the Unity menu integration for Firefox.
As with any Ubuntu release the usual complement of GNOME apps have been updated since Ubuntu 12.10 arrived last year. Firefox is currently at version 19; Libre Office has also been updated, as has Thunderbird and other bundled apps. Expect most of them to be updated again before 13.04 arrives in final form next month.
Yes, there were bugs, but this is a beta. I encountered some problems around the new right-click window lists in the Launcher, and Libre Office crashed several times.
That said, however, this is one of the more stable betas I've tested and the system didn't crash once during my tests. Based on the beta there's much to welcome in Ubuntu 13.04, with the promise of more interesting things to come. ®