Amazon chops EC2 virty server prices – again
Are you sure you want to be in the retail business, server makers?
The dance of Cloudy Server Limbo continues, with Amazon Web Services, the cloud computing subsidiary of e-tailing giant Amazon.com, lowering the broomstick a little closer to the floor and dancing under it with lower EC2 compute-cloud prices.
Specifically, on Tuesday AWS cut prices on compute capacity that customers reserve ahead of time, and in a blog post announcing the price cuts on EC2 reserved instances, Amazon said that the new rates apply to Standard (m1), Second-Generation Standard (m3), High-Memory (m2), and High-CPU (c1) that are running Red Hat Enterprise Linux, SUSE Linux Enterprise Server, or another Linux or Unix operating system.
The cuts are deepest on the high-memory instances, which will help customers interested in running in-memory database and other DRAM-intensive workloads. All three modes of reserved instance pricing – light, medium, and heavy utilization – are getting price cuts in all of the AWS geographies, as shown here: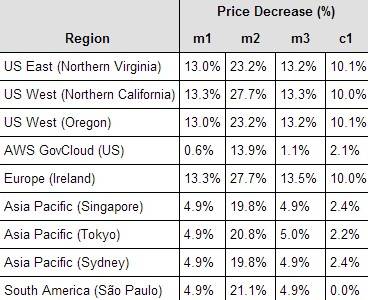 Amazon has taking the chop to EC2 reserved instances
Jeff Barr, cloud computing evangelist at AWS, said in the post that the price cuts are effective immediately, and that they can cut the cost of capacity by as much as 65 per cent compared to standard on-demand EC2 instances.
He also provided some rules of thumb to customers who are also trying to figure out if they should buy spot, on-demand, or reserved instances. Basically, he said, the heavier your utilization on a server, the more you should rely on a reserved instance and the heavier the utilization model you should pick for those reserved instances. But if you only run your server 15 per cent of the time, then Barr's advice is that you can get by on a standard on-demand instance.
What Amazon really wants you to do is make use of its Trusted Advisor service, a diagnostics tool to help customers not waste money on capacity and services they use on AWS, which Amazon is giving free access to during March.
Amazon announced the ability to reserve EC2 instances on its cloud back in March 2009, which helped both AWS and its customers do better capacity planning. In exchange for predictability in usage on the EC2 cloud and with a modest one-time fee, Amazon cut the price.
When reserved instances debuted four years ago, it cost 10 cents per hour for a small Linux-on-demand instance; with a one-year contract running a small instance reserved for a year, it worked out to 6.7 cents per hour and with a three-year contract, it dropped down to 4.9 cents per hour. (Those were US East region prices.)
To see how far Amazon has come with its price cuts and how much further it is pushing down costs with its new lower reserved instances prices, a small Linux on-demand instance (m1, not m2) now costs 6 cents per hour in the US East region, a lightly utilized small Linux reserved instance with a one-year term works out to 3.4 cents per hour, and a three-year term works out to 2.7 cents per hour. On a heavily utilized reserved instance, where the server is basically up all the time, you are down to 1.4 cents per hour for a one-year term and down to 1.2 cents per hour for a three-year term.
Price cuts were not offered on EC2 reserved instances running Windows.
Amazon is well used to living on pennies on the dollar – or, sometimes, just a single penny. The question is whether or not Rackspace Hosting, Google, and Microsoft are willing to live on such low margins, and the answer is they might be able to, but they don't want to be.
And while IBM, HP, and Dell think they are in the same business as AWS with their respective public clouds, they are trying to compete with their brands and supposed IT management skills and customer relationships more than they are trying to compete with Amazon on price. And the reason is simple: their pricing options are less sophisticated and they are higher – at least at list price.
The upshot is that IBM, HP, and Dell can build their own infrastructure and sell it at cost to their public clouds, so in theory, at least, they could try to compete on price. Pity the poor service providers who won't be able to do that as they build their clouds. Small wonder, then, that Rackspace Hosting is building its own servers and cutting out the middleman.
Google and Microsoft have plenty enough deep pockets to play Cloudy Server Limbo and keep crouching lower as each new AWS price cut comes around, so you can expect them to have reactionary price cuts pretty promptly. ®