Incoming comet will probably miss Mars, says NASA
Fly-by will be Earth-visible with binoculars
---
Object-watchers are keenly catching observations of the orbit of an object discovered by Rob McNaught of Australia's Siding Spring Observatory, which is set for a very close Mars fly-by in October 2014.
In fact, although NASA currently assigns the object a one-in-600 chance of an impact, and believes further observations will rule out the chance of a collision – it still remains a possibility.
The story started last January when McNaught first identified the body, now known as C/2013 A1 Siding Spring, which was then identified in earlier images taken by the Catalina Sky Survey stretching back to December. Initial number-crunching by Russia's Leonid Elenin identified it as likely to pass close to Mars. The current estimate from NASA is that the object will pass within 50,000 Km of the Red Planet.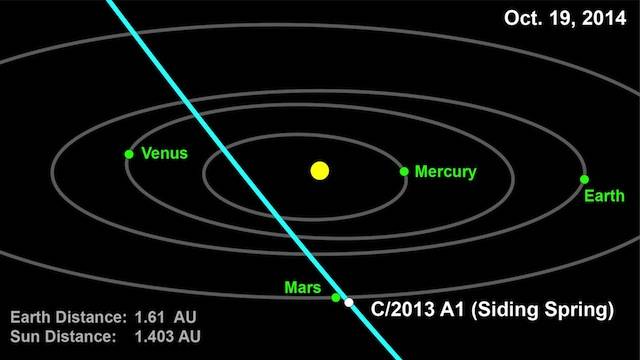 NASA's current prediction of the comet's path.
And the object is big: NASA expects that by September 2014, it will reach Magnitude 8, making it feasible to spot C/2013 A1 Siding Spring with binoculars as it passes Mars. From Mars, it would present a spectacular sight indeed: "During the close Mars approach the comet will likely achieve a total visual magnitude of zero or brighter, as seen from Mars-based assets," the space agency notes – meaning, The Register imagines, that scientists will be hoping that it will be possible to capture the fly-by with cameras from at least one rover.
NASA's STEREO-A spacecraft will also have a good view of the fly-by.
The Oort-Cloud-origin comet's been a long way on its journey, NASA notes – it's about a million years since it last said 'hello' to the inner parts of the Solar System.
If there is an impact, it's likely to be big: as this discussion explains, the comet could be as large as 50 km across, and would be arriving at around 35 Km per second, in which case the energy release would be "prodigous".
Not enough to disturb the orbit of Mars – but enough to scatter debris far and wide, and enough to cause a flash likely to be visible from Earth.
What about the doom and gloom?
As with all events astronomical, it hasn't taken long for the Internet to fly some fairly silly flags alongside more serious concerns.
"Will it split Mars open?" – No. Even at 50 km wide the comet would be about 1/135th Mars' diameter. The object is big as comets go, but not that big.
"It'll knock Mars out of its orbit" – See above.
"It's a danger to spacecraft around Mars" – As Phil Plait discusses, this is a genuine concern. The comet is quite likely bringing a lot of dust with it, with a halo that could quite easily be broad enough to cross paths with one or another Mars orbiters.
"Debris will be a danger to spacecraft around Earth!" – This is much more difficult to assess. The dust would have to travel an awfully large distance to get here, for a start. That which arrived would have to cross Earth's orbit; anything else will pass us by.
There's no need for a new round of apocalyptic visions centering on C/2013 A1 Siding Spring – but you can bet they'll spring up anyhow. ®