This article is more than 1 year old
iPhone 5S and lower-cost sibling coming this summer?
Faster processor, better camera, fingerprint sensor, same display size – maybe
The next iteration of the iPhone – likely called the iPhone 5S, according to rumor-mongers – will be released this summer and will include a fingerprint sensor, improved camera, and more-powerful processor. It will also be joined by a lower-cost, less spiffy sibling.
That's the take-away from a pair of reports on Tuesday, one from KGI Securities analyst Ming-Chi Kuo and a second from the Apple-centric website iMore, after speaking with the ever-loquacious "sources familiar with the plans."
Kuo, reports Edible Apple, foresees two iPhones appearing this summer. The new flagship iPhone 5S will be powered by a new A7 chip baked in a 28-nanometer process, a fingerprint-sensing authentication system based on tech that Apple acquired when it borged AuthenTec last fall, and an improved camera produced by Sony that has a low-light capability of ƒ2.0 and a "smart flash" with both white and yellow LEDs, presumably to improve white balance.
Kuo, by the way, correctly predicted the demise of the 17-inch MacBook Pro and the introduction of the Retina Display MacBooks, that the iPhone 5 would be the slimmest iPhone ever, a spate of MacBook Air upgrades, the ship date of the white iPhone 4, and other Cupertinian moves, so we'll grant his speculations a bit more credence than those of your garden-variety gadget gossip.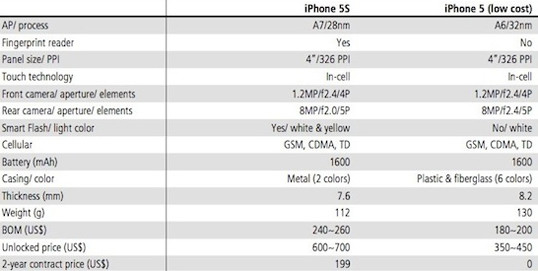 Specifications of the iPhone 5S and its lower-cost sibling (source: KGI Research estimates via Edible Apple)
Kuo also says that the iPhone 5S will have the same display size as the iPhone 5, and at 7.6mm and 112 grams, will be as slim and weigh the same, as well. It will also have the same metal case as the current top-of-the-line iPhone 5, and be available in two color choices – presumably the same "black & slate" and "white & silver".
The iPhone 5S will be sold unlocked at between $600 and $700, and with a two-year contract at $199, Kuo says. The as-yet-unnamed lower-cost iPhone will go for between $350 and $450 unlocked, and will be free with a two-year contract.
The cheaper iPhone will be made of plastic and fiberglass, he predicts, and will be available, iPod-like, in multiple colors – six, to be exact. Today's iPod touch is available in five, and the iPod nano in seven. It will also be thicker and heavier, at 8.2mm and 130 grams.
Kuo expects both new iPhones to be announced along with iOS 7 in June and to ship in July, both dates being earlier than last year's introduction of the iPhone 5, which was both announced and shipped last September.
The reason for moving the dates up is two-fold, Kuo opines. "We attribute this to: (1) an effort to avoid repeating the fatal mistake of last year of the delayed iPhone 5 launch, which gave competitors room to grab market share," he writes in his KGI Securities research note, "and (2) the new iPhones this year are mainly designed on the basis of the current iPhone 5, which suggests development time could be reduced."
iMore's prognostications are less detailed than Kuo's, but are essentially the same, mentioning the improved camera and processor. iMore, however, pushes the ship date of the iPhone 5S back a month to August, and adds that "next-generation iPads" may see the light of day as soon as April, "but we're really not sure what to make of that yet."
Given Kuo's track record, we'll wait to see what he has to say about next-gen iPads and their possible release date. ®