This article is more than 1 year old
Review: Toshiba Satellite U920T Ultrabook
Windows 8 - it's not going away, people
Whatever you might think about Windows 8, when it comes to taking the top down on the new ranges of convertible laptops, it's certainly not boring. Every single one I've encountered so far has a different take on how to make the laptop-tablet duo dance work and Toshiba's Satellite U920T Ultrabook offers yet another approach.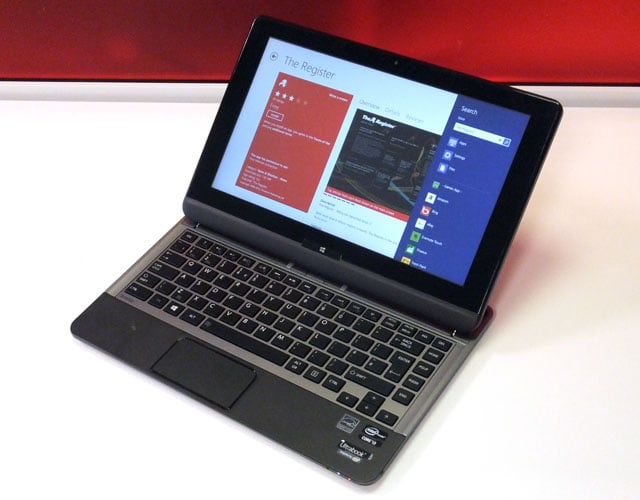 Core i3 convertible, anyone? Toshiba's Satellite U920T Ultrabook
Here, the conversion from tablet to laptop involves sliding back the touchscreen, revealing the keyboard beneath. You push it back all the way to the hinge before it can be tilted upright. This arrangement does at least allow for any screen angle covering around 90 degrees, as the hinge holds firm very well. That said, if you try to partially close the screen to get to sockets at the back you're going to find it a habit that needs breaking so that hinge doesn't.
Returning to tablet form does involve lying the screen flat before sliding across, so while it all functions well enough, you do need to apply a bit of thought to hurriedly putting it away. You can't snap it shut like a laptop as the screen doesn't fold that far and leaving it open is bulky and potentially vulnerable. Indeed, having a 12.5in, 16:9 aspect screen means there's plenty of it for you to want to pack away neatly.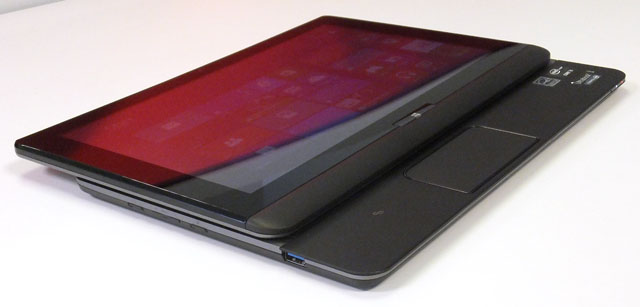 Slide to open: It actually clicks into this position so you can use the camera on the back and the trackpad to fire the shutter
Toshiba offers the Satellite U920T with either a 1.8GHz Intel Core i3-3217U CPU or a 1.7GHz Core i5-3317U. While there are 4GB or 8GB of RAM options, the Samsung SSD provided is only 128GB, which leaves a mere 67GB out of the box, although this does include a recovery parition. The screen resolution on all models remains at 1366 x 768, which actually works out quite well for some touchscreen work. Even though it might not appeal to all inclined to use it as a laptop, it does output full HD from the HDMI port.
There are two USB 3.0 ports with one allowing charge during sleep, which is handy. The mic-headphones combo socket is next to the SD card slot, that's well hidden behind a plastic cover. If you're less than thrilled by the SSD limits, the SD card slot can take up some of the slack for movies, music and suchlike. The 1Mp webcam is nothing special but easy to overlook is the rear facing 3Mp autofocus camera on the back of the screen that's closed off in tablet mode. Alas, this is no great shakes either.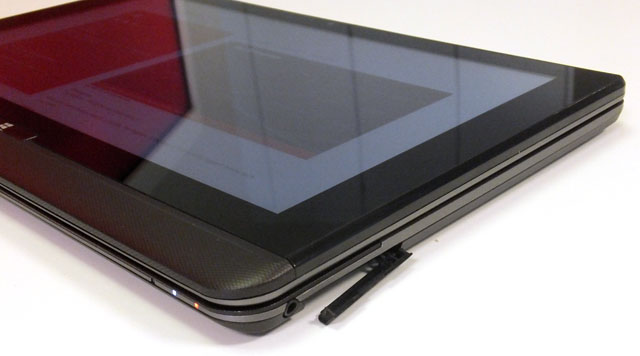 Easy to miss when in place – a plastic cover hides the SD card slot
Curiously, Toshiba doesn't provide any photo apps, yet stuffs Nero 12 Essentials media backup and authoring wares on this Ultrabook, even though it lacks an optical drive. You'll need to get to the Modern interface to use the standalone Camera functions. This opens the possibility of being lured into finding other photo apps on the Store as you seek out Skype and more.