Review: Toshiba Satellite U920T Ultrabook
Windows 8 - it's not going away, people
---
Unplugged
So there's GPS and NFC on this machine and, unless you make audio accessories, the latter lacks inspired development for other applications. It feels like Bluetooth printing all over again. Personally, I find the lack of Ethernet here a real drag though. When setting up new machine there's usually around a gigabyte of cumulative updates and a wired connection is going to pull it all in faster. Toshiba touts this Ultrabook as a business model, so having an adapter in the box would seem obligatory when you're paying over £1k for a Core i3 machine. Talking of updates, I don't know what Toshiba did when it sent this model out for review, but I couldn't update anything or even add a new user account.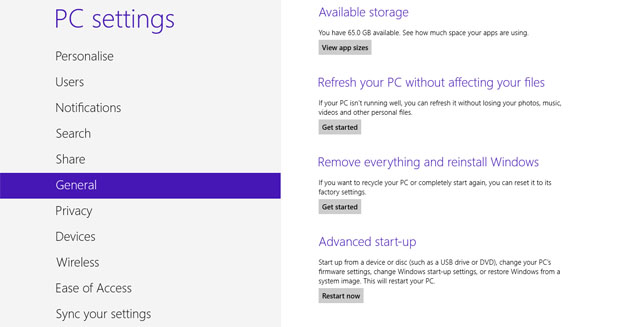 Easy access to restore options from PC Settings
The only way forward seemed to be a wipe and restore, which is delightfully pain-free. Unlike Lenovo and Sony, Toshiba foregoes a dedicated button for such a task, as you can just follow the restore options in the PC Settings control panel. If you go for the full wipe, the complete restore is done in around 35 minutes. And then on to the updates, which don't always prompt for a restart, when doing so would reveal another slew to be applied.
When it comes to updates though, the worst offender here is the Microsoft Store for the Modern apps. I like to monitor the progress of the these incoming apps, but the Store gets bored of showing this and wants you to go back to browsing for stuff it can sell you. Once it's made up its mind, checking out the download progress becomes impossible. The prompt showing the number of updates disappears and you end up in some no man's land. It's not a Toshiba issue, it's the same on all of these convertibles I've tested and doesn't inspire confidence.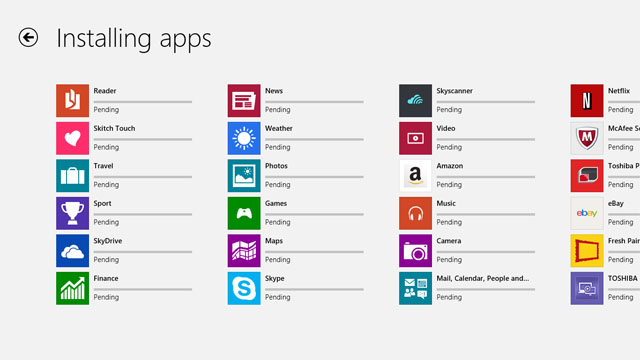 Updating Windows 8 Modern apps can turn into a bit of a mystery
Another thing that doesn't inspire confidence is Toshiba's website. It has the Core i5 model down at £1078 whereas the Core i3 model that I'm reviewing with an otherwise identical spec is £1139. Shurely shome mishtake? As for those prices, we are in Ultrabook country so don't expect bargains. Also, this Toshiba certainly doesn't feel cheap and flimsy. It's solidly built and at 1.5kg, you feel it when in tablet mode. This form factor prerequisite does bulk it out slightly too, as the screen margins are wider as a result. The overall size works out at 327 x 213 x 20mm, although it doesn't actually seem too thick due to some thoughtful tapering in places.
Toshiba describes the Satellite U920T as having a "precious silver finish with brown woven texture... on silver metal base." It's nicely understated and the texturing feels good in the hand being more grippy on the outer shell. Despite its cogs and struts at the back, the overall impression is that it's fairly sturdy and will take the knocks.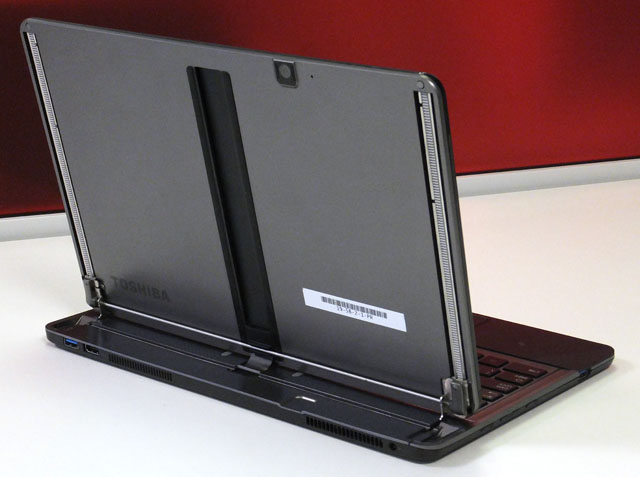 The line of teeth gearing the slide mechanism could well appeal to Steampunk fans
Indeed, even the slightest knocks can be a problem with Windows 8 convertibles, as screens all too easily flip between portrait to landscape modes. In this respect, without doubt, the screen orientation detection on the Toshiba Satellite U920T is the best I've encountered. There is a momentary pause, which seems quite deliberate, as if it's determining if you really intend to stay in this position. It works for me and as far as avoiding toe-curling frustration goes, it gets my vote on this refinement alone.