Review: Toshiba Satellite U920T Ultrabook
Windows 8 - it's not going away, people
---
Key concerns
If only the keyboard could match this touch of class. Admittedly, those broad screen borders give rise to a larger base, which provides for more space for the keyboard. So this isn't too cramped and there's room enough for a decent sized trackpad. However, those backlit tile keys feel so lifeless. The spacebar is the worst culprit here, having so little travel that it's hard to ascertain if you've pressed it hard enough. In the end, I just had to consciously dig in more to avoid words running into each other.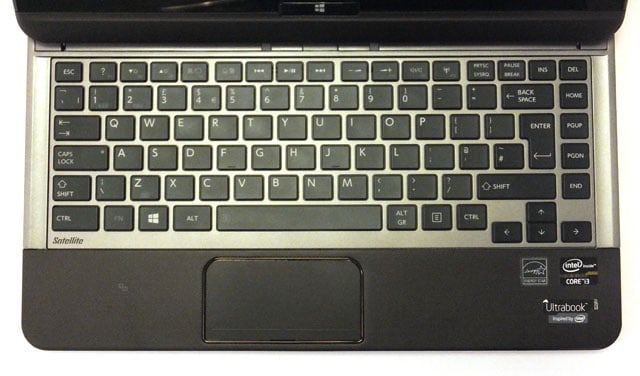 The keyboard is reasonably well spaced but feels rather lifeless in places
Sure, you do get used to it eventually, but you might want to try this out first to see if it bothers you, especially as there's some flexing as you get toward the middle of the keyboard. On the plus side, there are some useful shortcut keys along the top including media transport controls and decent sized navigation keys too.
The Toshiba Satellite U920T boots to the login screen from cold in nine seconds. Tests with PCMark 7 notched up a balanced settings score of 3189 and when set up for performance, this shot up to 3816. The benefits of having an SSD on-board helps the numbers here and it's not such a bad score compared to over 4700 from the Core i7 Sony Vaio Duo. It doesn't feel sluggish either, although some Flash heavy web pages could take their time to show.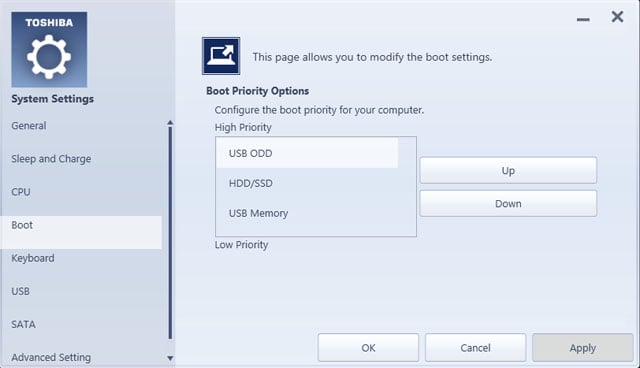 Booting from external media is made easy with the Toshiba System Settings control panel
There's only the HD 4000 Intel integrated GPU on this model which will suffice for most tasks, but this is no gaming machine. However, it does run Linux with an Ubuntu 12.10 Live CD working with the Wi-Fi but not the accelerometer. The touchscreen allows mouse movement, but taps do not fire up applications nor open folders. The battery life with PowerMark shows how a lower powered CPU can really deliver advantages when it comes to the duration game. Here it managed 2hrs 51mins which in real world use is easily double that.
Occasionally, the touchscreen would need repeated swipes – particularly for closing apps – but showed no obvious latency issues. Video playback was smooth and while not exactly dazzlingly bright, it was certainly sufficient although tablet mode in direct sunlight could prove to be a challenge.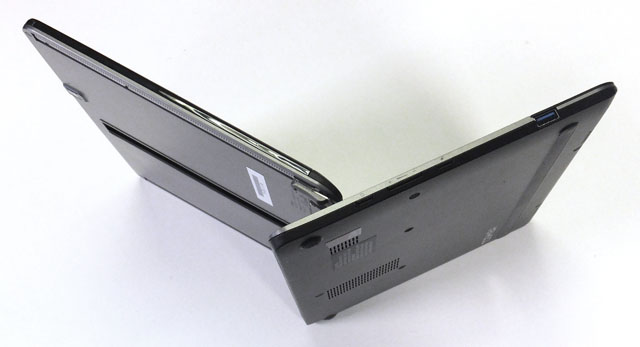 Having Intel inside demands vents on the bottom too
As for audio, the speakers are in the base at the front and don't make much of an impression until you fire up the SRS Premium Sound 3D control panel. SRS has been performing miracles with small speakers for decades now and this software makes a huge difference to the overall output. It certainly sounds louder, but you can get those tweaks from VLC Player. The fun starts when you click on the Advanced section, as it takes you beyond the presets for music, movies and 3D so you can tweak for improved dialogue intelligibility and bass enhancement, among other things. If you're hooked up to external speakers or headphones, there are options for these too.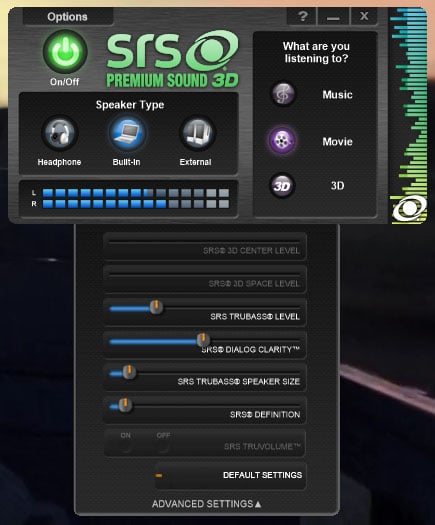 SRS Premium Sound 3D control panel helps boost small speaker performance
The Reg Verdict
The Toshiba Satellite U920T is a very likable convertible Ultrabook, although it took me a while to realise why. The reason, I'd say, is that it doesn't come across as some toy-like novelty item – it errs more on the sensible side. Even so, I still want to tilt the screen forward at times and its fold flat and slide convertible mechanism must be obeyed, which can be a little bothersome for speedy getaways. Still, this Ultrabook feels reassuringly solid and has a battery life that should get you through the day. Some will bemoan the lack of a full HD screen though, which leads to the biggest worry: the price. It's something that dogs all convertible Ultrabooks and the state of the premium portable PC market. ®

Review: Toshiba Satellite U920T Ultrabook
A sliding 12.5in touchscreen Windows 8 Pro convertible Ultrabook with an Intel Core i3 CPU, 4GB of RAM and a 128GB SSD.