It's not really a cellular phone, but a wireless sensor that Brown University researchers developed to help capture brain-waves. But since nobody else can resist the link-bait headline, why should The Register?
It's pretty cool, actually: the research is designed to provide better recording of brain activity, so as to help produce better computer models of the brain. Apart from the "spooky" and sci-fi stories, there's a very serious point to such research, since better brain models also help diagnose disorders, damage and diseases. For example, multichannel microelectrode arrays could help spot the early signs of an epileptic siezure.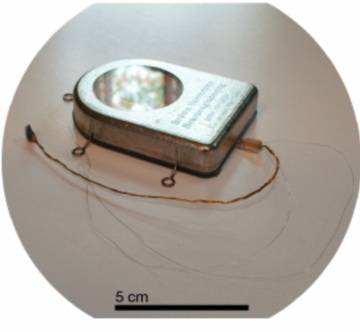 Brown University's tiny wireless brain-wave recorder implant
And, of course, once acquired, brain-waves can also be scanned for particular signals that users can be taught to associate with operating external devices via computers.
The Brown Uni researchers developed the device in the image below, which they say demonstrates "a fully implanted, wireless, microelectronic neural data acquisition and telemetry system to replace and reach beyond the current cabled technologies" (via the Journal of Neural Engineering).
The wireless angle is obvious: it gets rid of the need to have a penetrative electrode connection (with all the problems such things bring with them – both in terms of infection risk and mobility).
The implantable device uses the 3.2 and 3.8 GHz wireless channel and frequency-shift keying for communications, draws around 100 milliwatts, and takes about two hours per wireless recharge.
The device has been operated successfully in pigs and monkeys for 12 months, the researchers say. ®
Similar topics
Narrower topics