Biz data botherer CommVault hangs on to virtual crown
Simpana product top of the virty server backup pops
It looks like one-trick pony CommVault is top of the heap again with its virtualised server backup product, Simpana, at least according to DCIG's latest buyer's guide.
The guide is an update on a 2010 version and ranks 22 virtual server backup products.*
DCIG says its guide "provides a powerful yet concise method to evaluate each virtual server backup software [product and] provides a set of scores and rankings across the multiple features on each product as well as a data sheet for each virtual server backup software product. These data sheets drill down into the specifics of each one to provide information about each product's backup technology, management, restore and support features."
The actual rankings are set out in this table: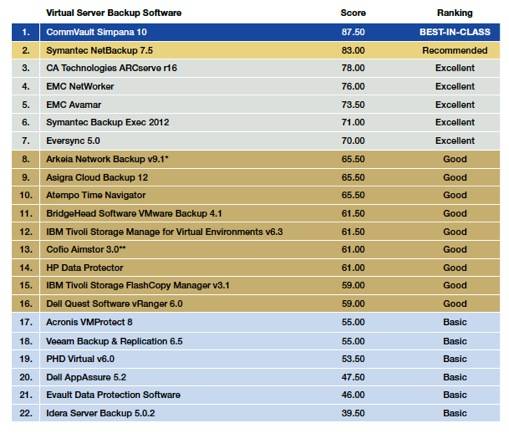 DCIG's Virtual Server Backup product ranking
Simpana 10 is best in class and NetBackup's 7.5 bagged the no 2 spot, followed by ARCserve, Eversync, NetWorker, Arkeia's NetBackup and EMC's Avamar - all in the "Excellent" class. There are five products ranked in the bottom or "Basic" class: Acronis VMProtect 8; Veeam Backup & Replication 6.5, PHD Virtual v6.0; Dell's AppAssure; Evault Data Protection Software; and Idera Server Backup.
There is another table devoted to product backup technology only and it doesn't change things much. Have a look at that and individual product data sheets on DCIG's website.
Back in 2010, the highest recommended product was CommVault's Simpana 9 product, just one point ahead of CA's ARCserve r215. Seagate's i365 EVault Data Protection Software was down in the Basic category then. EVault hasn't improved much relative to the leaders since then. Returning to the top end of the list, ARCserve has dropped a level, and has been overtaken by Symantec's NetBackup.
Get the guide here (PDF - beware, registration required). ®
*DCIG is an independent analysis company that sometimes accepts paid assignments from vendors that may or may not appear in its buyers' guides. The occurrence of such assignments in themselves is of no help regarding a guide entry or ranking, we are told.