So, another month, another Facebook press conference. After the sort-of launch of Graph Search just over a month ago, Facebook is about to revamp another facet of its network: the News Feed.
El Reg is expecting some tough questions on this one. The News Feed is coming under increasing scrutiny at the moment, after Facebook began selling paid promotional posts on people's feeds.
The results haven't been too popular with regular users, and more than a few advertisers have been cowed by reams of critical comments from users who are sick of the spam. So we shall see what the behoodied one has in store for us.
9:45am The press have been let into the conference room at last, and there's more than a few smokers in the assembled throng of hacks who were dismayed to be greeted by this sign.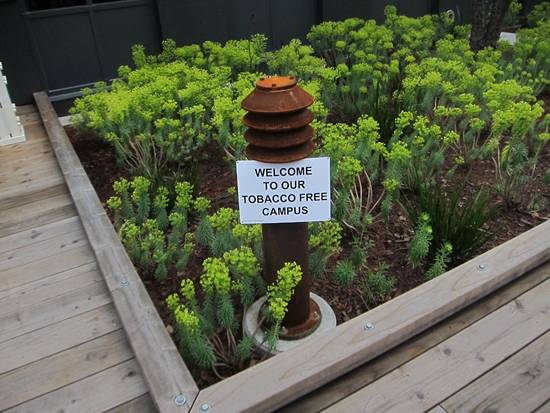 Silicon Valley – where smoking is socially unacceptable
That said, Facebook does have the decency to start at a reasonable hour. Despite what many US firms seem to think, an 8am meeting isn't the sign of a thrusting go-getter, but just poor time management.
10:05am Hmm, a late start. But here comes Mark Zuckerberg.
10:06am "We want more than a single feed of content," he says. "We want to give everyone in the world the best newspaper we can. It should have high-quality public content and socially relevant content, and to drill into any topic."
10:08am "You need to be able to share any kind of content you want," he says. Just not porn – although he didn't say that. Zuck's really pushing the "personalized newspaper" line.
10:10am Almost 50 per cent of content is photos, and 25 per cent content per comes from public posts.
10:12am Here it is, the new News Feed. Zuck says it's designed to give rich stories, with your choice of feed, and a mobile-inspired UI.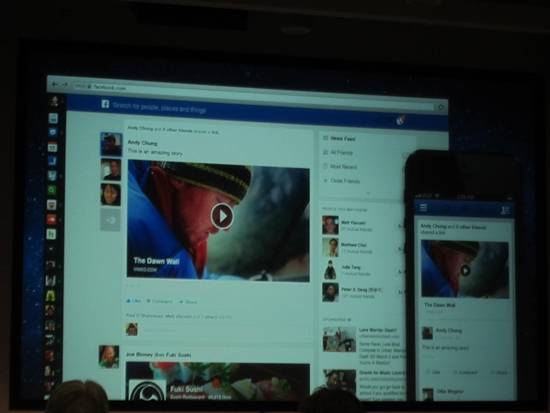 The new news feed
10:14am Julia Zhou takes over to explain, "They say a picture is worth a thousand words, but in the old News Feed it's nearer 500. Now we're making photos bigger and more valuable, and revamping photo albums." Articles, too, are getting bigger images, a bigger title, and a longer summary.
10:18am At the end of the day, the most-shared articles on topics will be made available, if they go along with your interests. You can also find out what events your friends have planned for the day. The new design starts today
10:21am Chris Struhar, tech lead on the project, takes over. The new News Feed has been under development for a year at least, he says. Facebook spent a lot of time interviewing users and the result was that people want control of their pages.
10:22am The all-friends feed will be a feature – a list of what every one of your friends is doing. That's going to be very popular, Struhar says. There'll also be specific music and photos feeds and a "following" feed where you can follow companies and public figures you like in chronological order.
10:25am All feeds are available on mobile and PC with no differences. Chris Cox, the mobile guy, takes over. "Having a small screen forces you to simplify things, and mobile has inspired this," he says.
10:27am Around 35 per cent of users don't use chat because their screens aren't big enough, so that's moved to a tray at the bottom of the page. Cox says this might lead to more chatting from people with older PCs.
10:30am Facebook will start rolling this new design out today, Cox says, and we'll see changes over the next few weeks. Facebook will be doing a slow rollout and taking a lot of feedback, then opening it up to everyone.
10:32am The Q&A begins. They are still pushing the newspaper angle. The basic algorithms won't change, but news feeds will simply be added in.
10:35am Load times have been worked on to make Facebook more fluid, the team says. There's a lot more content than there used to be, and so there's more pressure on the system. The ecosystem is now so large, separate feeds are needed.
10:37am The music feed: a lot of musicians don't get mainstream press,they say, and the music feed will provide "tons" of new music. The events page will also help musicians make money, although this hack doesn't know a single musician who loves to tour – but it is very lucrative.
10:39am Zuckerberg says that Instagram will be treated like any other application. Facebook is trying to build relationships with other social companies, where it makes sense.
10:41am The main News Feed will still be people's primary source of information. But there's also more demand for more content, and Zuckerberg says he doesn't want to push more stuff on the front page to "maximize people's happiness." This just gives people more power, he says.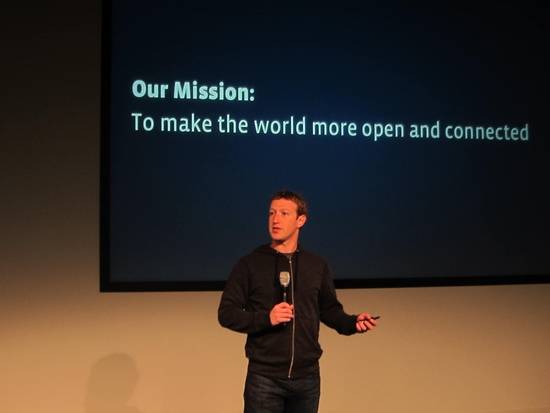 You have the power!
10:43am There's some fudging on the advertising front. Yes, we're still going to get spammed with adverts, but Facebook hopes they'll be more relevant. There are big opportunities for advertisiers, the team promises.
10:44am That's it, the end of press conference. A short one by Facebook standards, but there wasn't that much to say.
The News Feed redesign certainly looks cleaner and fresher than the old design, and shifting the chat window makes sense from both Facebook's and the user's perspective. Having specific feeds is a good idea, but it remains to be seen how much people will use them.
The music feed is going to be popular with bands – and Facebook's advertising-sales department – and we can expect to see a lot more companies asking you to "like" them so that they can get on your feeds.
We'll see how quickly this rolls out and what kind of feedback Facebook gets from users. If you're an early adopter, let us know in the forums. ®
Similar topics