If you want to take on Cisco Systems in the nascent cloud networking-as-a-service market, you are going to need money. Lots of money. And so plucky upstart Pertino Networks, which just uncloaked from stealth mode last month, has gathered up some new investors and hit up its existing ones to fill up its war chest.
Todd Krautkremer, vice president of marketing at Pertino, tells El Reg that some of the existing seed investors kicked in to the $20m in Series B funding, and so did Norwest Venture Partners and Lightspeed Venture Partners, which put together $8.9m in Series A funding back in April 2012 for Pertino to fuel up the Cloud Network Engine.
But the lead investor on the Series B round was Jafco Ventures, which among other things invested in Aster Data (now part of Teradata) and DataAllegro (now part of Microsoft). Having Jafco kick in funds is important, explained Krautkremer, because the company has relationships in Japan and China, where Pertino hopes to expand its business.
Krautkremer says that Pertino is putting its hand into the money bag a little earlier than it planned. but it is doing so for a number of reasons. First, Cloud Network Engine just launched with limited availability last month, and a product launch is the natural time to round up a bunch more investors.
Second, with Cloud Network Engine being both a cloudy product and a software-defined networking product, there are lots of VCs and equity firms running around trying to find someone to give money to.
"We foresee these funds as being able to take us a very long way down the road towards – if not all the way to – profitability," Krautkremer said.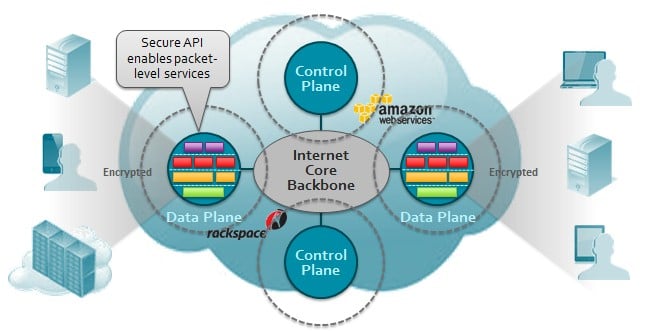 Conceptual view of the Pertino cloud network engine
As El Reg explained last month when Pertino uncloaked, Cloud Network Engine is a service that abstracts all of the LAN and WAN links between our devices (smartphones, laptops, PCs, and tablets) and the applications running on servers inside the corporate firewall.
You have an email address as an identifier, a bunch of different devices that you are allowed to work from, and a bunch of apps and services that you are allowed to link to, and Pertino takes care of all of the networking gobbledygook in between, creating what it calls a "personal address space" on the cloud that is functionally a personal cloudy network between you and your apps.
You can overlay these personal cloud nets into aggregated corporate address spaces, and the Cloud Network Engine can support up to 64,000 combinations of users and devices, so it is plenty scalable.
Like other SDN approaches, Cloud Network Engine is separating the control plane from the forwarding or data plane, allowing for traffic shaping, WAN optimization, and other services across the Pertino cloud.
Cloud Network Engine currently runs on Amazon Web Services, Rackspace Cloud, Linode, and a few other cloud providers. Pertino has multiple carrier feeds between these clouds to pass data between them as you link in from different parts of the world to access your apps on the corporate physical LAN inside the firewall.
Eventually, Pertino will link Cloud Network Engine into LDAP and Active Directory access control software and will support links from other operating systems. OS X support is coming in April, and other operating systems (including iOS and Android) and additional network services will be rolling out in the second half of the year. General availability for Cloud Network Engine is expected in the fourth quarter.
During limited availability, you can try out Cloud Network Engine for free for three different users with up to three devices each. If you want more people to access a device or service inside of the corporate firewall, then you pay $10 per member (as Pertino calls users) per month.
In the past month, Pertino has added five employees and now has 35 people on staff. It has also boosted its customer base from 250 before it uncloaked to over 800. That's pretty good for a product that at the moment only supports PCs running Windows 7 or Windows Server 2008 R2.
Cisco, of course, shelled out $1.2bn for Meraki, which has created a cloudy network service to layer on top of WiFi and wired networks, and has said that it wants to create a $1bn Cloud Networking Group based on Meraki's hardware and software technology. Expect others to dive in and try to grab big handfuls of money and start talking about cloudy networks or using the cloud as a big virtual switch. ®
Similar topics