At a time when smartphone screens are getting bigger and bigger, Japanese outfit Willcom has bucked the trend and announced what it claims is the world's smallest and lightest mobile phone.
The little-known electronics vendor will launch the munchkin-sized "Strap Phone 2 WX06A" on 21 March. It features a tiny 96x64 resolution, 1in screen – around a sixth of the size of the world's biggest smartphone, Huawei's Ascend Mate – and weighs in at just 32g.
With dimensions of just 32 × 70 × 10.7mm, it can only manage to cram in a 400mAh battery, providing just 2 hours of talk time, and 300 hours on standby.
Email, text and phone functionality is all that the device can handle, although given the size of the keys it will be remarkable if anyone other than a small child can use the phone effectively.
Unlike its – apparently well-received – predecessor, Strap Phone 2 also features a flip-out antenna for improved reception, and is available in black, white and pink.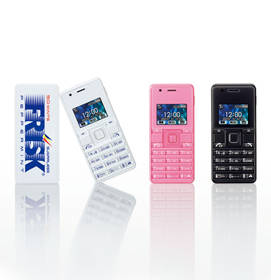 Willcom says the device can also be used, rather bizarrely as a potential smartphone accessory.
Accessorising one's phone (kei-tai) by strapping various tacky ornaments to it is very popular in Japan, but it remains to be seen whether image conscious users are prepared to fork out the ¥35,520 (£252) these tiny phones are being sold for.
Irrespective of whether the phone is in fact the world's smallest and lightest – and it certainly beats Shenzhen Hop Industrial's EC107 on weight – it has been cited, with some degree of accuracy, as emblematic of just how out of touch Japan's mobile vendors are with the needs of modern users.
For those who are interested, however, it'll only go on sale in Japan in a limited run of just 12,000. ®
Similar topics