MakerBot demos 3D object scanner that fits on your desk
Printable garden gnomes in as little as three minutes
MakerBot, producer of the Replicator line of desktop 3D printers, took to the stage at the SXSW Interactive conference in Austin, Texas on Friday to demo a prototype of its first desktop 3D scanner.
While 3D printing may be no big deal these days – numerous affordable models are available and enthusiasts are using them to print everything from bikinis to working firearms – the difficulty of creating high-quality 3D models of objects to print remains a barrier to wide adoption, something that MakerBot hopes to change.
"The MakerBot Digitizer Desktop 3D Scanner is an innovative new way to take a physical object, scan it, and create a digital file – without any design, CAD software or 3D modeling experience at all – and then print the item again and again," MakerBot CEO Bre Pettis said in a statement.
The Digitizer works by placing an object on a spinning platform, scanning it using a combination of lasers and cameras, and then saving the collected data into a file format that's usable by 3D printing systems.
MakerBot says the scanner can create a "watertight" digital model of an object – meaning one with no holes, cracks, or missing features, such that "inside" and "outside" the object are clearly defined – in as little as three minutes.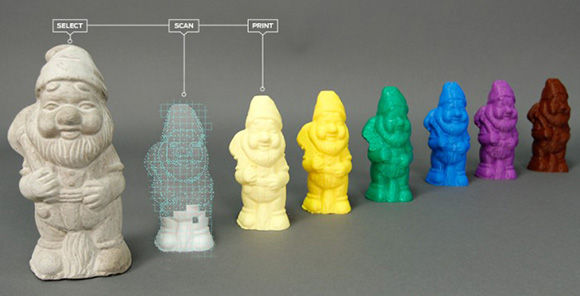 Got a really big garden (and really poor taste)? MakerBot has your answer
The company says it anticipates the device will mostly be used to replicate and archive objects, but it could also allow a designer to scan a real-world object and then modify the resulting model using CAD software to create something new.
So far, the Digitizer is just a prototype, but Pettis said MakerBot definitely intends to market it as a product. More information will be made available throughout the year, but for now, MakerBot plans to spend lots of time scanning, testing, and printing items to refine the device.
Naturally, with the device at such an early stage, no pricing information was announced. But those who are interested in the Digitizer can sign up to receive further information via email on MakerBot's website.
"This is something you would envision being science fiction, but in fact, it is real – and it is so cool," Pettis said. We'd tend to agree. ®