This article is more than 1 year old
Ten serious sci-fi films for the sentient fan
In space, no one can hear you ponder the eternal verities
Feature Zap guns, robots, lightspeed-smashing spaceships and bikini-busting princesses do not real science fiction make. Just ask George Lucas.
Star Wars defined movie SF in the mind of many a mainstream viewer. But while the film and its sequels and, er, prequels certainly provide the sci-fi enthusiast with thrills a-plenty - guilty or otherwise - they're not true science fiction. Or at least not good sci-fi. Cowboys and Indians in space - yes; SF - no.
Good science fiction, you see, is about big ideas. It's about exploring the human condition of the times in which it's written or filmed. Sorry, but a reducing good and evil to a force generated by intelligent bacteria in the blood of all living things is no meditation on the eternal verities.
Serious sci-fi can excite and delight, but it should also make you think. Star Wars pretty much lopped the legs off serious sci-fi movie-making with a scientifically implausible laser sword, but it didn't kill it off entirely. There have been some gems made since then.
Not that there were too many beforehand. The 1950s was dominated by alien invasion horror, while the 1960s saw sci-fi fall in popularity as it became clear human beings would soon be exploring space for real. Fortunately, the decade's troubles - the Cuban missile crisis, drug culture, Vietnam, a increasing emphasis on young consumers - provided fertile ground for a brief resurrection of good sci-fi flicks in the early 1970s.
The decade saw the release of the likes of The Andromeda Strain, Demon Seed, The Final Programme, The Illustrated Man, Logan's Run, The Omega Man, Slaughterhouse-Five, Westworld and more. Even Lucas' own THX 1138. But these are not among our top 10, presented below in release order.
As ever, feel free to disagree and tell us in the comments why we really, really should have had Amazon Women on the Moon in the list.
The Day the Earth Stood Still

You don't have to be of a religious bent to appreciate this 1951 second-coming parable. Angular-faced Michael Rennie's Klaatu doesn't have to be nailed to a tree to save us from our sins, but he does get shot by a GI with an itchy trigger finger, allowing him to sneak off and walk among us mortals for a brief time as the seemingly ordinary Mr Carpenter (Geddit?!?!)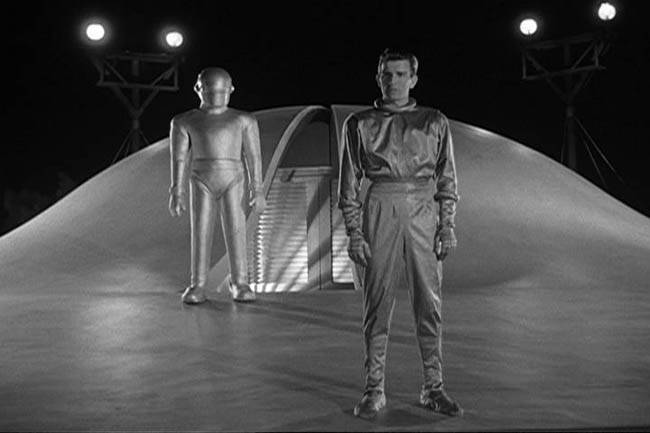 War, what is it good for? Absolutely nothing
Source: 20th Century Fox Home Entertainment
Turns out we're not as bad a bunch as the militaristic response to the arrival of Klaatu's saucer in central Washington might suggest. If we can just get over our desire to blowing the seven shades out of each other, "Grow up or else" is Klaatu's dire warning at the end of the picture. A mere 11 years later, in 1962, we came awfully close to realising what he meant, and you have to wonder if we'll ever figure it out. Forgive them, Lord, for they know not what they do...
Director Robert Wise
Writer Edmund H North
Release 1951
Notes Famous for the eerily silent robot, Gort, he of the tank-melting laser vision and smooth, jointless chassis. Klaatu barada nikto!
Forbidden Planet

Yes, it's hard to take the baggy trousers, the cook who seems to have wandered straight off the set of South Pacific and Anne Francis' shockingly pointy chest seriously, but this was the 1950s, for Asimov's sake. If written SF had yet to break The Fuck Barrier, movie sci-fi was even more virginal, yet Forbidden Planet, in reworking the Immortal Bard's Tempest, presents an adventure that requires a brain to enjoy, not just a pair of eyes and a box of popcorn.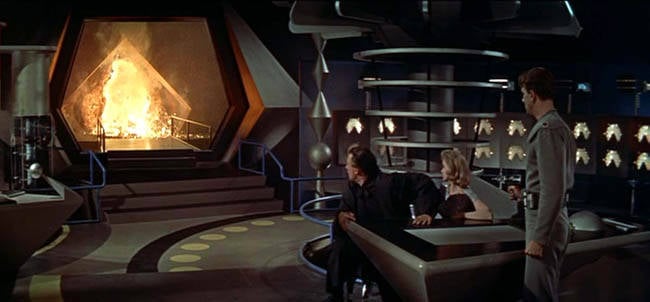 Bloody hell, it's the Krell
Source: Warner Home Video
You can't fault the special effects, courtesy of Disney's animators, especially the jaw-dropping cyclopean interiors of the Krell city. It's appropriate that their domain lies deep inside their world - Forbidden Planet is concerned with the interior, home of dangerous human emotions like lust, jealousy and monsters, monsters of the id...
Director Fred M Wilcox
Writer Cyril Hume
Release 1956
Notes Forever Jung, Forbidden Planet remains notable for its splendid, long pre-CGI effects, and for featuring Leslie "Police Squad" Nielsen in a serious role. Shamelessly ripped off in the Doctor Who story Planet of Evil.