AMD has released its latest A-Series laptop chips, codenamed "Richland" and replacing the "Trinity" chips released last spring.
Is it a giant leap from Trinity to Richland? Well, no, but the new chips are clearly a step forward – if, in some cases, only incrementally.
Before we dig into Richland's upgrades, a refresher course to those Reg readers who don't regularly follow AMD's consumer efforts. Rather than merely calling its processors, well, processors, a few years back it decided to call their CPU-GPU mashups "APUs", which stands for accelerated processing units. They've stuck with that terminology, so it appears that we're stuck with it, as well.
The new Richland A-Series APUs are best described as improved Trinity APUs. They're based on the same second-generation "Piledriver" compute cores that had their APU debut in Trinity, and their GPU remains based on the AMD "Cayman" VLIW4 (very long instruction word) architecture.
AMD's Graphics Core Next, which we heard so much about at the company's 2011 Fusion Summit, doesn't make its appearance in Richland; it seems that we'll have to wait until AMD's next round – "Kaveri", "Kabini", and "Temash" – before GCN makes it into APUs.
But despite Richland's close resemblance to Trinity, there are improvements to celebrate – improved power management, for one. According to AMD, Richland's power-management system is much more granular than that of Trinity, allowing for more-precise control over which parts of the chip are lit up – and, more importantly, which parts can be shut down, thus saving power.
In most cases, the power savings over Trinity are nothing to get frightfully excited about, but AMD does claim that one workload – 720p video playback – can see power savings of as much as 25 per cent. Not too shabby, if true.
Any amount of power savings is to be welcomed, of course, and seeing as how both Richland's CPU and GPU cores can be cranked up and down in a base/turbo scheme, any power saved in other ways can keep them turboing that much longer without stepping over the total-power line, thus improving performance.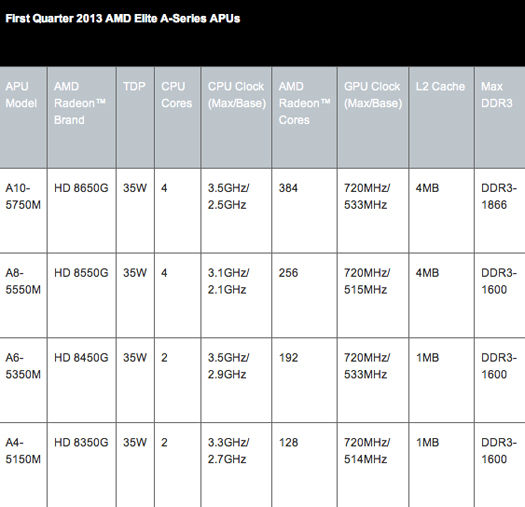 And speaking of clock rates, Richland's are faster than those of Trinity, as well – but keeping with the rest of Richland's improvements, the speed-ups are modest but welcome. For example, the top-end Trinity A-10 had a base clock of 2.3GHz, and turbos up to 3.2GHz, while the new Richland A-10 has a base of 2.5GH and a turbo of 3.5GHz.
The clocks of that Richland A-10's 384 Radeon GPU cores are a bit zippier than those same number of cores in the Trinity A-10: a base of 533MHz and a turbo of 720MHz in the new chip versus 497MHz and 686MHz in the older chip.
As we said above: incremental.
In its announcement of the Richland line – excuse me, the "AMD Elite A-Series Accelerated Processing Units" – AMD touted a number of user-interface niceties for which the new APUs will provide support, including facial-recognition login, gestural control, video image-stabilization and color-enhancement, and more.
Those are all well and good, and should appear when laptops equipped with the new Richland chips hit retailers "beginning this month in select regions," as AMD explains. But what should really differentiate those laptops from the ones powered by chips from AMD's gargantuan competitor, Intel – aside from improved graphics in AMD's offerings – is price.
AMD did not provide details in its Tuesday release about pricing for its new processors APUs – which, by the way, are all 35-watt parts with lower-power parts to come later – but you can be sure that its prices will be lower than those charged by Chipzilla. ®