Scalding clouds too hot to touch? Newvem adds heat map to AWS
Now you can see where you are wasting money and making Bezos richer
Not everyone thinks visually, but a lot of us do. And for those of us who think in pictures better than tables of data, Newvem - which has launched a set of monitoring tools for the Amazon Web Services cloud - has created a new heat map tool that rides on its cloudy service.
Newvem was founded in 2010 by Zev Laderman and Ilan Naslavsky, who previously created a patch management system for Linux and Solaris servers at a company they created called Aduva. This was acquired by Sun Microsystems in February 2006 and was mashed up into Sun and now Oracle control freak tools.
Newvem put its Cloud Care tool for AWS out for beta last April and went into production in November. It rolled out a significant upgrade last month, when it also pushed out a freebie edition of its Cloud Care service.
With Cloud Care, you give Newvem read-only access to your Amazon CloudWatch service and other APIs; it then gathers up all the information it can about how your EC2 instances are running, and presents it to you in such a way that you can use the resources more efficiently and cut your spending on AWS.
The software-as-a-service startup has one of the best independent views into AWS, with more than 1,500 customers and at least 125,000 EC2 instances representing something on the order of $200m in EC2 spending a year. It would have been $280m if Newvem had not helped customers chop $80m, Laderman has said in the past and repeated again when talking about the heat map to El Reg.
The heat map is available in the freebie version of Cloud Care, explains Laderman, but if you want to be able to do finer-grained analysis of the underlying EC2 images in the heat map, or clump EC2 images by application or business group so you can analyze usage patterns visually in these ways instead of aggregating everything, then you need to shell out some dough for the premium edition of Cloud Care.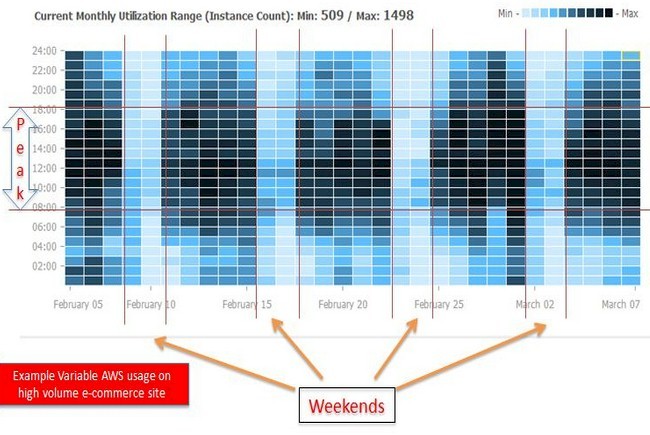 The Newvem heat map function shows utilization on EC2 virty server instances
One of the useful things that the heat map does is work with Cloud Care to recommend which instances should be converted from on-demand to reserved instances on EC2.
As a general rule, if you have an EC2 image that is running at 60 per cent utilization, then it pays to shift to a reserved instance, which helps you cut your costs by maybe 35 to 40 per cent, according to Laderman.
(This savings obviously depends on the EC2 slice size and the utilization in terms the percent of CPU used over time.)
And if you have a lot of reserved instance that you are not using effectively, it will similarly help you figure out which ones should be converted to on-demand instances, allowing you to sell the reserved instances on the open market that Amazon set up last September.
At the moment, Cloud Care cannot make recommendations about converting EC2 virty servers to spot pricing, the other option available at AWS, but this functionality is in the works, says Laderman.
If you want to use the heat map to view utilization on Amazon's S3 storage service, you need to buy the premium edition of Cloud Care. Newvem is vague about pricing for the premium version, but says it costs anywhere from a tenth of a penny to three pennies per usage hour on top of whatever you are paying for EC2 and S3 services.
Newvem has packaged up bundles of monitoring capacity for small-to-medium businesses using a mix of EC2 and S3 capacity to make it easier to consume, but has not released pricing on these bundles. ®