This article is more than 1 year old
Starlight-sifting boffins can now spot ALIEN LIFE LIGHT YEARS AWAY
New method filters out glare for rapid chemical analysis
Pics Boffins have made a breakthrough in the search for alien life with a new technique for determining the colours, chemical composition and even physical characteristics of exoplanets that are light years away.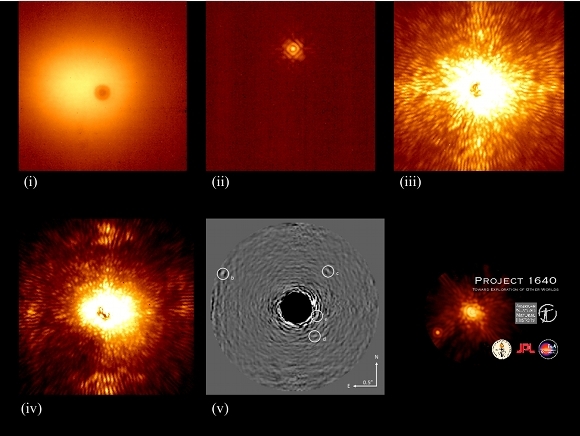 Chemical analysis progression of HR8799 planets
Credit: American Museum of Natural History
An international collaboration, Project 1640, has used a new telescopic imaging capability to reveal the respective chemical compositions of four worlds in a distant solar system at once, a feat that could lead to the rapid characterisation of far-flung planets for their life-sustaining potential.
"The spectra of these four worlds clearly show that they are far too toxic and hot to sustain life as we know it," said co-author Ian Parry, a senior lecturer at the Institute of Astronomy at Cambridge University.
"But the really exciting thing is that one day, the techniques we've developed will give us our first secure evidence of the existence of life on a planet outside our solar system."
Previous studies had only managed to partially measure the outermost planet in the system before starlight blinded the technology. But, using new software and instruments, astroboffins from the University of Cambridge and the American Museum of Natural History were able to filter out the light from the system's sun and read the light signature of the chemical elements of the planets instead.
Project 1640 is attached to the Hale Telescope in California and uses the world's most advanced adaptive optics system, which can make millions of tiny adjustments to the device's two 6-inch mirrors every second. It also has a coronagraph to optically dim the star but not other celestial objects in the field of view and a specialised wave front sensor that can distinguish between residual starlight and light from planets.
The spectra of the planets from the HR8799 system have proven to be "quite strange", Ben Oppenheimer from the American Museum said.
"These warm, red planets are unlike any other known object in our universe. All four planets have different spectra, and all four are peculiar. The theorists have a lot of work to do now," he said.
The planets appear to be chemically imbalanced, since basic chemistry would predict that ammonia and methane should naturally coexist in varying quantities unless they are in extremely hot or cold environments. The four worlds are only "lukewarm" - all with temperature readings of about 1,000° Kelvin (1,340°F, 727°C) - but each has either ammonia or methane, with little or no amounts of their chemical partners. Other substances such as acetylene, previously undiscovered on any exoplanet and carbon dioxide may be present as well, the boffins said.
The planets are also "redder" than expected, emitting longer wavelengths of light than other celestial objects with similar temperatures, which could be explained by significant cloud cover over the worlds.
"The variation in the spectra of the four planets is really intriguing," said Didier Saumon, an astronomer at Los Alamos National Laboratory who was not involved in this study.
"Perhaps this shouldn't be too surprising, given that the four gaseous planets of the solar system are all different. The hundreds of known exoplanets have forced us to broaden our thinking, and this new data keeps pushing that envelope."
The full study, "Reconnaissance of the HR 8799 Exosolar System I: Near IR Spectroscopy", will be published in The Astrophysical Journal and is available for download here. ®