Taiwanese giant Quanta sold one out of every seven servers last year
'Hyperscale serving came to us, and we own it'
---
Exclusive Taiwanese server maker Quanta is sick of people misrepresenting or guessing about the size and might of its server business, and so it is setting the record straight. And as it turns out, Quanta has an absolutely huge and absurdly fast-growing server business that should make all of the server incumbents quake with trepidation and sharpen their envy knives.
The server arm of the $37bn Quanta Computer giant has been relatively quiet in recent years as it made its way into the original design and manufacturing, or ODM, server business and now has greatly expanded its direct sales.
The company opened up its US subsidiary last year, called Quanta QCT, which is located in Fremont, California, and is opening up an office in Seattle, Washington next month to do technical support, sales, and marketing to hyperscale cloud operators.
As it becomes more known in the States, Quanta is starting to talk about its business a little more. Mike Yang, vice president and general manager of the cloud business unit at Quanta Computer, reached out to El Reg to set the record straight about its server biz.
"It is important to acknowledge that the market was changing, and is still changing, and that this business came to Quanta," explained Yang. "Quanta did not go looking for this."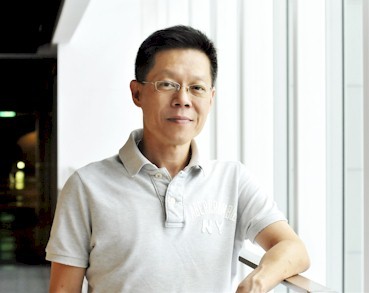 Quanta cloud business unit GM Mike Yang
Rather, Yang said, companies running hyperscale data centers were not happy with general-purpose machines and wanted something that specifically fit their workloads and their data centers. That's why Facebook and Rackspace Hosting – two companies that Quanta can reference – and others, who are very secretive about their servers and their suppliers because the machines are themselves a competitive advantage, came to Quanta and got this custom server business rolling.
And as it turns out, Quanta is relying less and less on its ODM business, where it makes machines for other IT suppliers, and more and more on its direct sales to the hyperscale data center customers, cutting out the middlemen.
"They know very well what they need, and we know how to design – that's what we do," affirmed Yang. "Most of the time, we exceed their design expectations. This is our value."
That value has translated into a very large number of server shipments that are helping to prop up the overall market, and revenues that are growing five times as fast as shipments. Yup, you heard that right. In a server racket where revenues are flat to down and shipments are piddling along, Quanta is exploding.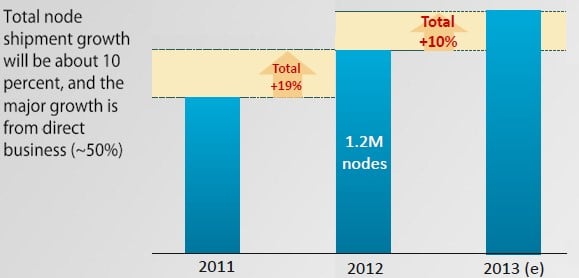 Quanta has outgrown the server industry in terms of shipments in the past few years
In 2008, using IDC figures, there were 8.1 million servers sold, with 7.7 million of them being based on x86 processors. In 2012, there were still 8.1 million servers sold worldwide, but 8 million of them were x86 boxes. So the x86 platform is crushing the market share like crazy.
Yang didn't have figures at hand going all the way back to 2008 for Quanta server business, but said that the company shipped 1.2 million server nodes in 2012 to companies all over the world, and that this represented 19 per cent growth over 2011's figures.
If you do the math, that means Quanta shipped slightly more than 1 million machines in 2011. If you use IDC's shipment numbers, then about one of every seven machines that shipped last year on the entire planet was forged by Quanta.
Granted, Quanta does not always get credit for that manufacturing, since the Googles, Facebooks, Amazons, Rackspaces, Yahoos, Baidus, and other hyperscale data center operators of the world do not talk about who actually designs and makes their machines.
And Yang talking about shipments today with El Reg is meant to make it clear that the box counters of the world are not giving Quanta its proper share. Which was around 14.8 per cent, if you do the math and assume the IDC shipment numbers are correct across all vendors.