Taiwanese giant Quanta sold one out of every seven servers last year
'Hyperscale serving came to us, and we own it'
---
Coining money in tin and iron
While Quanta's server shipments are impressive, and the growth, considering how flat the server market has been in recent quarters, is equally eyebrow-raising, the revenue growth that Quanta is enjoying in its shiny hyperscale server biz will cause more than a few eyes to boggle.
Quanta is a public company, traded on the Taiwan Stock Exchange, and does not provide financials for specific product lines, but Yang was permitted to disclose that the Quanta server business was generating multiple billions of dollars per year in sales.
And thanks to a shift from ODM work on behalf of other vendors who slap their brands on the Quanta product (as happens in the laptop business all the time) to more direct sales right to hyperscale cloud operators, Quanta's revenues are projected to grow at a jaw-dropping 50 per cent this year.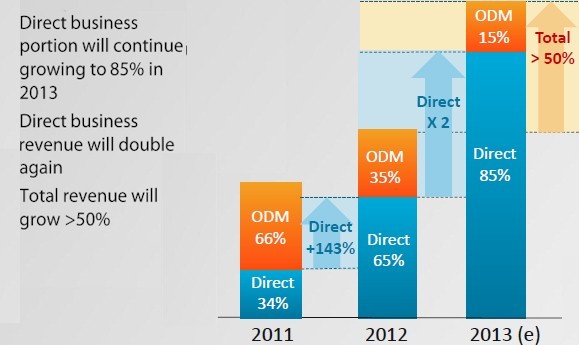 Quanta's server revenues are growing five times faster than shipments
Yang tells El Reg that direct sales made up only 34 per cent of the business in 2011 and the remaining 66 per cent was boxes it made on an ODM basis for other server OEMs. But last year, thanks in part to the growth of sales to companies like Facebook and Rackspace, that direct business grew by 143 per cent and is expected to double again in 2013.
The ODM part of the Quanta server business will actually shrink, but the overall server business will nonetheless rise by 50 per cent if all goes as planned at Quanta.
With shipments only up 10 per cent and revenues up 50 per cent, this suggests that Quanta is taking down some pretty beefy server installations this year. Yang says that rack-level shipments, where customers consume product by the rack, will be a big driver for growth.
Quanta will also have products available that are compatible with the Open Rack specification espoused by Facebook and its Open Compute Project later this year, and expects for OCP servers and racks to get more attention from hyperscale cloud operators. (Rackspace has already committed to using tweaked OCP designs, and others will follow whether or not we hear about them.)
Let's have some fun with math. As El Reg previously reported, if you take the volume of density-optimized servers (192,000 units) and the revenues ($705m) and divide the former in the latter, you get an average selling price of $3,672.
Assuming this is a reasonable amount of revenue for a bare-bones hyperscale box, then Quanta generated something on the order of $4.4bn from its server business in 2012. I happen to think the cost per server is lower than that, but do not have a hard time believing that Quanta could have generated $3bn to $4bn in revenues from its server biz.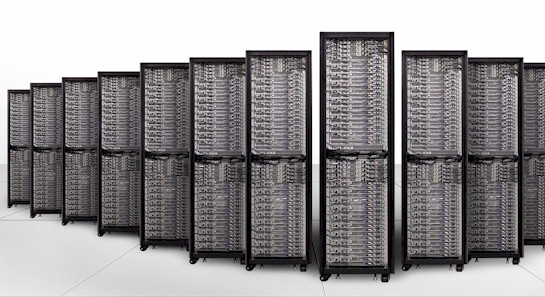 Rackgo systems from Quanta include servers, storage, switching, and batteries
Here's the amazing bit. That revenue was generated across dozens – not hundreds, thousands, or tens of thousands – but dozens of customers. And here's the second amazing bit - boost that by 50 percent for where it will be in 2013.
That will be larger than the IBM Power Systems or the System z mainframe businesses in size, still a bit smaller than the HP ProLiant server business, but several times as large as the Cisco Systems UCS server business.
Quanta has around 600 engineers working away on server designs on behalf of customers back in its labs on the outskirts of Taipei, Taiwan, and does its manufacturing of motherboards and base systems in Shanghai. The company has finally assembly and configuration operations in Freemont for the Americas region and in Athens, Greece for the European region and moves its racked-up servers by truck to customers.
Quanta doesn't just build servers; it can do storage and switching, and honestly, in a modern hyperscale data center, these are converging anyway. The company has its own integrated rack design, called Rackgo, but will also support Open Racks this year for customers who want to do what Facebook does.
Quanta has over 100,000 employees worldwide – about the same size as Dell – and has over 7,000 employees at its Quanta Research and Design center in Taipei. And is it force that will be reckoned with. ®