This article is more than 1 year old
Ten ten-inch tablets
When only five-sixths of a foot will do
Product Round-up Does it make sense to own both a smartphone with a 5-inch screen and a 7-inch tablet? Arguably not. I can't think of anything that I can do on my Nexus 7 that I couldn't do equally well on a Samsung Galaxy Note II. Granted, the Nexus 7 makes a perfect partner for my Motorola Razr i, but if I used a Note II as my 'phone' I'd want a Nexus 10 as a tablet. In short, a big phone dictates a bigger tablet.
So, following on from my recent look at the current crop of monster phones, it's time to have a quick shufti at the best big tablets to go with them.
Big here means a tumescent ten inches of technology to stroke and fondle. Before I take a kicking from the pedants, yes, I know none of these tablets are actually ten-inchers. Two have a third of an inch too little between the corners, and eight have a tenth too much. But what's a fraction of an inch between friends?
Putting this list together today rather than six months ago was made a lot easier by the long overdue demise of the Apple-Google tablet OS duopoly. After the misfires that were the BlackBerry PlayBook - if it had sold then, pound-to-a-penny there'd be a 10-inch version by now - and the HP TouchPad, a third alternative was sorely needed.
So say what you like about Windows 8 and RT, at least Microsoft's new swipe-enhanced operating system means that round-ups like this no longer need consist of one iPad and nine Android tablets. Finally some real choice for those who don't like what's on offer from either Cupertino or Mountain View.
Acer Iconia Tab A210

Acer has knocked out so many lookalike 10-inch Android tablets over the years it's well nigh impossible to keep track. The A500, the A510, the A580... how many of you actually spotted the last isn't an Acer tablet but a road linking Manchester and Liverpool? I rest my case. The A210 is, on the face of it, another par-for-the-course 10.1-inch, 1280 x 800 Android tablet but it has two things going for it: price - the 16GB version can be found for £250 if you look hard enough - and a full-size USB 2.0 port.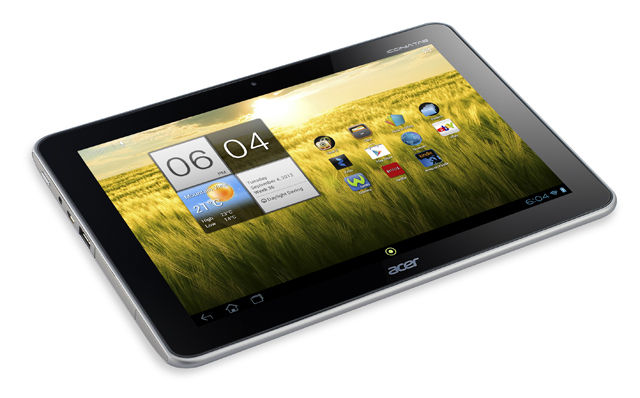 Personally I like the ability to plug in a USB stick or external HDD to watch my video collection without having to worry about adaptor cables and such. There are a couple of other useful hardware touches too, including a physical screen lock switch and covered Micro SD slot. The 3260mAh battery is a bit gutless - you'll get five hours of video playback but no more - and as a device it's a wee bit thick and heavy. But if the price is right, that USB socket makes it worth a look.
Price
£250
More Info
Acer
Apple iPad 4

Unimpeachable build quality, a selection of tablet-optimised apps that's second to none, epic battery life, a screen that you can't level any serious criticisms at, and bricks and mortar support from your local Apple Store that redefines what what we Brits understand by 'customer service'. It really isn't hard to understand why world+dog+fleas wants one of these things even if all they use it for is ebook reading, social networking and browsing the web.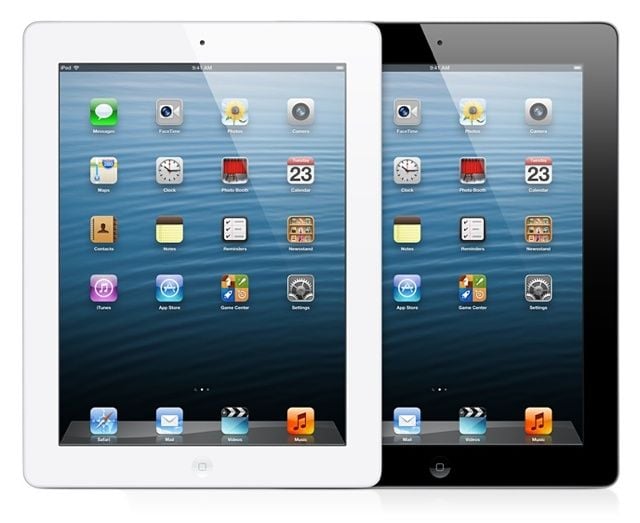 In the negative column, it's locked down tighter than a Tory MP in a massage parlour, it's hugely expensive - prices start at £399 for the 16GB version, though that does at least represent much better value for money than the £269 iPad Mini - there's no storage expansion and Apple's iCloud looks limited to anyone used to Dropbox, Google or Microsoft cloud services. There's no GPS radio in the Wi-Fi version either, though to be fair it's not something Windows tablets offer.
Price
£399-739
More Info
Apple