Ten ten-inch tablets
When only five-sixths of a foot will do
Asus VivoTab Smart

Uniquely among tablet makers, Asus has hedged its bets and gone with both forms of Windows 8, using RT for the 10.1-inch VivoTab RT and full Windows 8 for the 10.1-inch VivoTab Smart and 11.6-inch VivoTab. Externally the VivoTab Smart is spiritually akin to Microsoft's Surface, with a magnetic keyboard that talks to the tablet over Bluetooth and no secondary battery. Running Windows 8 proper on an Intel dual-core 1.8GHz Atom Z2760 CPU with 2GB of Ram, the Smart ought to to be a bit of a sluggard but that's not the case: it runs surprisingly smoothly.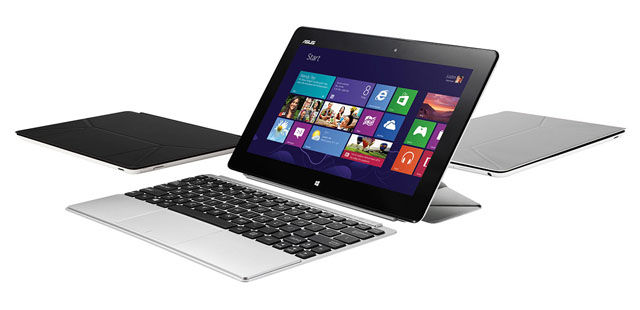 The keyboard and cover-cum-stand will set you back £90 but both are rather clever and well worth having. The keyboard is light and thin but still very pleasant to type on, while the cover part can be folded up origami-style to work as a stand. The screen's resolution is the standard 10.1-inch Windows 1368 x 766 but being an LCD IPS panel it's brighter and rather more colourful than the norm. In fact, it looks and behaves much like the screen used in the Android Transformer Tablet and Prime, which is no bad thing. A 64GB SSD and 8MP main camera are the cherries on the cake.
Price
£399
More Info
Asus
Barnes & Noble Nook HD+

Granted, the Nook HD+ is more an e-reader from the planet Krypton than a tablet but anything with a 9-inch, 1920 x 1280 screen, 16GB of storage and a price tag that's less than £230 has to be worth a closer look. And if you plan on using your tablet mainly for reading it's worth keeping in mind that, at 515g, the Nook HD+ is the lightest tablet here by some margin. With a UI based on a heavily skinned version of Android Ice Cream Sandwich, the HD+ is idiot proof to use and for my money a more pleasent device to spend time with than its arch enemy, the Kindle Fire HD 8.9. Not that we Brits can actually buy the Fire HD 8.9 at the moment.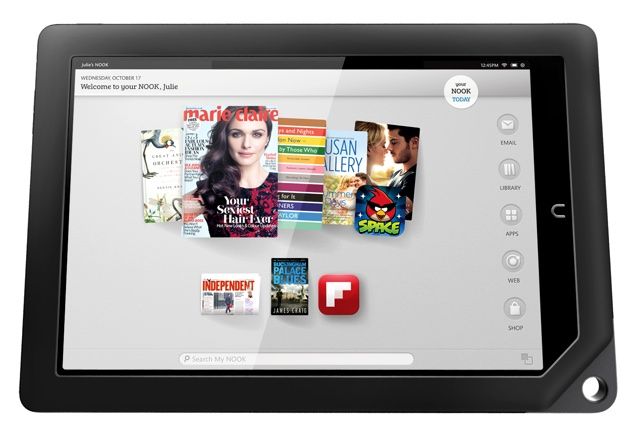 There's no doubt that videos, whether streamed from the Nook store or using Netflix, look good on the HD+'s 256dpi screen though the sound is a bit tinny at higher volumes. When UltraViolet becomes more common, the tablet's built-in support for the online movie locker system will be handy too. The absence of a webcam seems a strange decision though when many folk want to make Skype video calls on their slab. Like Kindle's tablet offerings, you only get the apps Nook wants you to have rather than the whole Android smash, but most of the non-Google apps you are likely to want are present and correct.
Price
£229
More Info
Nook