This article is more than 1 year old
Report: Amazon dominates global cloud spend
IBM and BT follow, Google and Microsoft struggle
Amazon Web Services dominates the infrastructure-as-a-service cloud computing market, and is dramatically growing its share in platform-as-a-service as well, according to reasonably-believable research figures.
Amazon took in around 35 percent of the $1.2bn spent globally on infrastructure-as-a-service clouds in Q4 2012, with IBM coming in at a distant second with 5 percent and British Telecom coming in third, according to figures released on Monday by the Synergy Research Group.
On that basis, AWS revenues ran to a shade over $400m in the quarter, with IBM and BT taking in a fraction of that, and chief cloud rivals Google, Microsoft and Rackspace not even making third place in IaaS.*
The number-crunchers got to these figures by sending surveys to fifty or so of the leading operators in the cloud infrastructure market and augmenting these with "extensive research of operator financial & earnings releases, investor data, product data, and other secondary data sources," their chief executive John Dinsdale told The Register.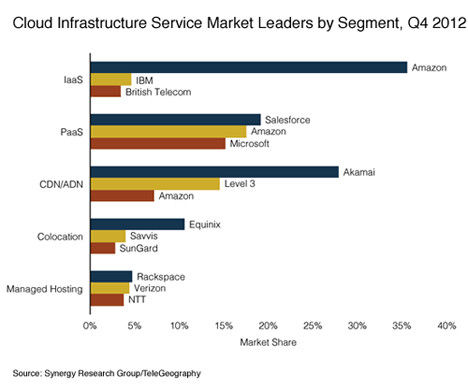 With a share like this, no wonder AWS can make so many price cuts.
Requests by The Register to see the full data sources were rebuffed, but after some back and forth we're confident that these figures reflect the composition of the cloud market.
"There is a fascinating battle for market share developing," Dinsdale said. "Traditional telcos are strong in the more mature managed hosting segment, where they account for eight of the top ten operators, but their impact on the IaaS and PaaS segments has so far been muted. We have no doubts that they will more aggressively target those segments in the coming years."
IBM offers cloud computing services usually as an add-in with other products. BT started selling cloud computing services in 2010, and has expanded to offer services from 45 data centers spread around the world. Prices start at three grand for a small server per year with additional charges on bandwidth and storage.
BT, like IBM, does not have a public fine-grained breakdown of its IaaS prices.
"After the two market leaders in IaaS, there is a chasing pack of nine companies which had broadly similar IaaS revenues (eight of which are traditional telcos)" Dinsdale, told us by email. "So while BT is ranked #3 in the quarter, there is little distance between it and several other competitors."
With enterprise stalwart IBM second and BT coming in third, where, then, are Google, Rackspace and Microsoft – the typical companies placed alongside Amazon?
Google's IaaS service Google Compute Engine was only announced in mid-2012 and still isn't generally available, so this has dampened adoption. "Although it's growing rapily the numbers are still small," Dinsdale said.
Microsoft was "tagged as mainly a PaaS play" and, like Google, Synergy expects it to see strong growth in 2013. Microsoft has done well in platform-as-a-service, with its Azure cloud coming in at around 15 per cent of the PaaS market compared with 17 percent share for Amazon and a whopping 19 percent share for Salesforce.
But spend on IaaS and PaaS amount to only 15 percent of the overall market for cloud services, as defined by Synergy, with the other three categories – content delivery networks, colocation services, and managed hosting – being led by traditional vendors.
Even here Amazon is making inroads, with the big yellow cloud taking third place at around 7 percent of share of CDN services.
With Amazon taking such a large chunk of the market, no wonder it is able to buy custom servers in bulk, undercut competitors on price, and support such a large developer ecosystem. ®
Bootnote
If anything the AWS revenue estimate is too low – Amazon booked $820m in its "Other" revenue segment in Q4 2012, which is a hold-all category for AWS, along with advertising services, and co-branded card agreements. El Reg has heard credible estimates from numerous industry insiders that put AWS revenues within "Other" at 80 percent rather than 50.