EMC launches its cloudy Federation with Pivotal big data spinoff
Just don't call it The Family, Wall Street tells CEO Tucci
Wall Street events can be pretty boring unless you like money and profits, but there was a moment of levity during EMC's financial analysts meeting that marked the birth of the Pivotal Initiative, the gathering up of big data and application framework assets from EMC and its virtualization minion, VMware.
Joe Tucci, EMC's CEO and chairman, was asked about how he would manage joint development between EMC Information Infrastructure, or EMC II, as the storage unit of the parent EMC2 is called, and VMware and now the Pivotal unit, which will be a mashup of big data, application frameworks, and other parts of the two companies.
"There is not as much joint development as you might think," explained Tucci, adding that "there's a little rub" between the three parts of the EMC parent company and that he was not interested in eliminating all overlap between the three.
"With our ambitions, we facing giants," Tucci said, referring to IBM, Microsoft, and Oracle as three giants who all have aspirations in the markets that EMC, the parent is chasing. "If we can work inside the family, we can get a lot of benefits," Tucci said.
And he was subsequently corrected by a Wall Street analyst also with an Italian name that perhaps family was not the best word for the working relationship between the three parts of EMC. "Fair enough," Tucci said, and everybody had a good laugh.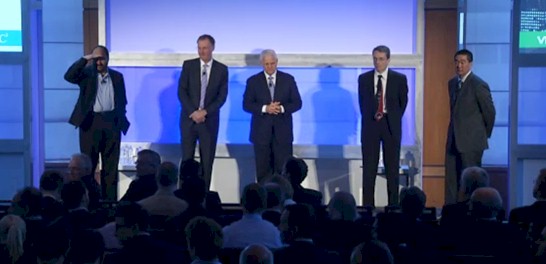 Top brass at EMC from the left: Paul Maritz, who will take over Pivotal; David Goulden, who runs EMC II and is also parent EMC's CFO; chairman and CEO Joe Tucci; VMware CEO Pat Gelsinger; and
Tucci had earlier opened up by explaining a little bit about the Pivotal Initiative spinoff, which both EMC and VMware have been pretty secretive about after divulging was in the works last December. EMC only said anything about the Pivotal spinoff then because Wall Street and customers were worried that Paul Maritz, the hot-shot Microsoftie who had been running VMware for several years, might be leaving EMC.
As it turns out, and as many expected, Tucci said today that Maritz would be taking the help of Pivotal (he did not give him a CEO title, but clearly that will be the case) and that his role as chief strategy officer at EMC would now be shared with Gelsinger and Goulden, who run the two other members of the family federation.
Here's how the Pivotal spinoff will work, as Tucci laid it out. EMC will own 69 per cent of the company and VMware will own 31 per cent of it. EMC will be investing funds into the new company, and products from VMware and EMC will be moved into the new unit, which will be carved out on April 1.
That unit had $300m in revenues in 2012, with about two thirds of it coming from EMC and about a third coming from VMware, so the ownership stakes of the two companies are roughly proportional to the revenue streams of the products that come from each company.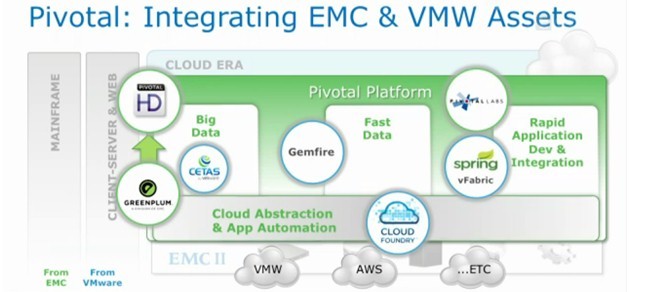 How the pieces of the Pivotal stack will fit together
The goal behind the spinning out Pivotal products from both EMC and VMware is to get a clean separation between application and infrastructure layers across the EMC federation* explained Maritz.
EMC is tossing in its Greenplum parallel data warehousing and Hadoop distribution business and the Pivotal Labs coder-for-hire operation that it bought last year. VMware is throwing in Cetas Software, a data analytics stack that rides on top of Hadoop, the Spring application framework, Gemfire application caching, the vFabric stack of tools that weave Spring, Gemfire, and other components together, and the open source Cloud Foundry application framework that has yet to come out of beta.
That last bit is the fun stuff, as Maritz indicated that Cloud Foundry would remain open source and said that it would be morphed into a cross-cloud abstraction layer, or a cloud operating system to reprise the old VMware term from a few years back when Maritz took over. He also said that Cloud Foundry, which has been running on VMware's own data centers only, will be available on the Amazon Web Services "in the coming months."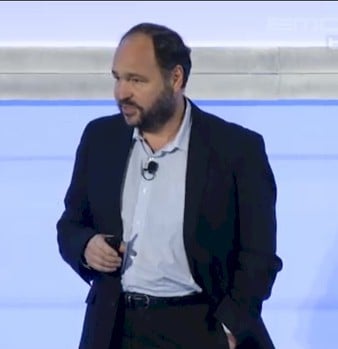 Presumed Pivotal CEO Paul Maritz
Maritz has gone over his central themes many times before about the next wave of IT architecture, and he did it again today in New York, telling the assembled Wall Street multitudes that we are in the third era of corporate computing.
The first two were mainframe computing in the 1960s and 1970s and client/server computing in the 1980s and 1990s. In the mainframe era, companies were automating financial operations, using ISAM and other flat-file databases by and large running largely on mainframes. Maritz lumped the minicomputer revolution of the late 1970s, the Unix revolution of the late 1980s, and the client/server computing wave (largely on x86 iron but including proprietary and Unix minis) all into one giant client/server era that saw the widespread adoption of relational databases.
In this new cloud era, which has been pioneered by "consumer internet giants" like Google and Facebook, as he called them, these giants are delivering new experiences and services, they are using different kinds of systems that scale where the old client/server systems simply cannot, and they are using new business models to make money. And that means VMware and EMC have to change, too.
"We don't want to go back to the first platform, where you write a COBOL/CICS application and you were condemned to pay IBM a tax," Maritz said.
No, but you might end up paying VMware or Amazon a tax, at least if they are clever enough about how they build their clouds. In any event, in this cloud era, customers are using scale-out architectures on minimalist systems and they increasingly define the whole data center as a software function.
What Maritz neglected to say, of course, was that in Google and Facebook data centers, there is very little server virtualization, which would be a big problem for sister company VMware even if it will have zero effect on Pivotal.
Customers in this cloud era store larger data sets and they do a lot of crunching so tailor the user experience, and because of the large scale, they can't manage their infrastructure with human beings – things move too fast and there are too many things to keep track of – and thus they have to automate it. These cloudy companies also do rapid application development and continuous deployment, both of which are not something most enterprises can stomach - yet.
On top of these, "the internet of things" is sending massive amounts of telemetry down to systems from zillions of devices, and you need to integrate these new systems with legacy applications running on the first platforms (mainframes) and the second platforms (client/server systems) that will continue to be in use by enterprises long after Maritz retires.
So the Greenplum parallel database and the Pivotal HD Hadoop distribution with the Hawq SQL extensions, just announced three weeks ago, will be handling the big data portion of the workloads, and Gemfire caching will handle the fast data issues.
Pivotal will leverage the coding expertise of the Pivotal Labs people – there are 250 of them now, in offices in both San Francisco and New York – to help customers do rapid coding, and they will be encouraged to deploy applications on Spring and vFabric frameworks. And, as Maritz suggested, the whole shebang will be able to be run atop a Cloud Foundry abstraction layer that includes application automation features as well.
Basically, if you think about this for a second, EMC and VMware just conceded that for many workloads the VMware ESXi hypervisor is unsuitable. And the very existence of Pivotal is an admission of that.
Sure, some companies will want to, for instance, run Hadoop inside of ESXi virtual machines, but it seems far more likely that they won't unless they are forced to by their own IT departments. That will be a fun battle to watch, pitting operational efficiency against computational efficiency.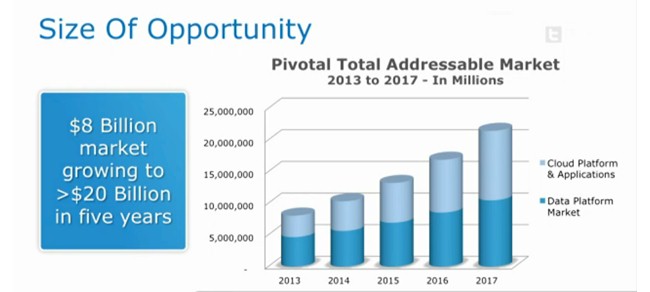 The total addressable market for data and cloud platforms, according to EMC
Maritz said that the opportunity that the Pivotal collective is pointed out would account for around $8bn in revenues in 2013, and would grow by a factor of 2.5 or so by 2017 to over $20bn. That is split pretty much halfway between data platforms (Hadoop clusters, parallel databases, and caching software) and cloud and application platforms (those frameworks for the most part).
The goal at Pivotal, the company that Maritz will run, will be to forge this into a real integrated platform, but one that allows companies to buy parts of it piecemeal if they want to.
"We think we can grow this to a $1bn business in five years," Maritz said. "We think that growth will take off in 2014, and I am hoping that $1bn will be a conservative number."
That is more than triple the current expected revenues from the Pivotal stack, which is expected to not grow at all through what Maritz called "a transition year." And, it will take about $400m in net new investment from owners EMC and VMware to get the products integrated and this "cloud operating system layer" realized.
Most of that investment will be done in 2013 and 2014, but Maritz gave no indication of what it might be. He did say that the company would be cash flow positive in 2015 if all went well. We will get a more detailed view of the Pivotal stack in the second half of this year.
All VMware CEO Pat Gelsinger knows is that a whole chunk of money-losing set of software is no longer on his books. Had Pivotal not been established, the VMware products being put into the partnership would have generated around $130m in revenues in 2013, according to VMware CFO Jonathan Chadwick, and they would have posted a loss of around $50m.
Tucci said that any talk about taking Pivotal public, as EMC did with VMware, was premature, and that the biggest hurdle Pivotal has right now is getting some kind of predictability in its results. (Huh, maybe big data can fix that?) But the boards of EMC and VMware alike agreed that these assets should be woven together and create something bigger and better, and that is the plan.
"This has got homerun potential if we do it right," Tucci said. "We are not thinking about an IPO. We have got to execute, but that would be a great end game."
And speaking of end game, Tucci reiterated that he would be sticking around as EMC CEO and chairman until February 2015, as planned, and is expecting to stay on as "an active chairman" after that, depending on his health and the approval of the EMC board. ®
*Bootnote: Call them Enterprise SDDC-1701 and Reliant SSD-1864 for fun, and let's call the new ship in the fleet Pivotal HD-1001001, ahead warp factor three