This article is more than 1 year old
Oracle's cloud slowly condenses
Vaporous apps are rising as point products for social big data mobility
Oracle has started touring the world, throwing "CloudWorld" events at which it explains it's not late to the cloud, but took its own sweet time getting there in good shape.
That was the message at the Sydney event today, where the Big O's chief communications officer Bob Evans predicted 2013's "dumbest idea" has already been uttered, and it is that Oracle has missed and/or disregards the cloud. CEO and Founder Larry Ellison, he insisted, just about invented software-as-a-service by backing NetSuite in 1998, a time when clouds had only meteorological connotations and application service providers represented the bleeding edge model for consuming applications.
Fast forward fifteen years and Oracle, Evans says, now has cloud "at the heart of everything we do."
And what does it do?
The Sydney audience was treated to a laundry list of applications Oracle will now happily deploy to the cloud or, should you prefer it, hybrid arrangements that span your premises and Oracle's data centres. Just about every app Oracle revealed as Project Fusion is now available in cloudy configuration.
Here's how Oracle sees its cloud.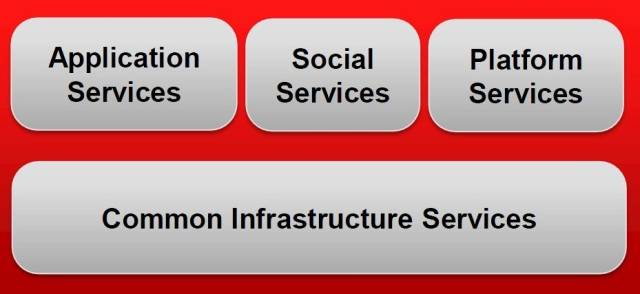 Oracle's cloudy stack, if we can call something two layers tall a stack
Application services translates as "Oracle applications", even newly-acquire ones like Eloqua. Evans said "social services" will mean IT shops won't run mere "systems of record" and will instead offer "systems of engagement" and "go from transactions to interactions". This bit of the Oracle cloud will plug in to other bits to give them the capabilities Oracle feels will be essential to sell so much as a stick of gum at a time when customers are likely to Tweet about their first chew, mention the second jaw movement on Facebook, review the overall experience on Yelp and then mashup all three into an animated GIF on tumblr.
Platform service is PaaS for database, Java, storage, collaboration, an app store and tools that allows one to pump out Oracle apps into HTML 5 so they can be consumed on all manner of battery-powered and untethered modern contraptions. Common infrastructure services includes a business process orchestration piece to tie together all the cloudy bits into a set of services that recognisably does something.
Both Evans and executive vice president Steve Miranda don't expect customers to jump to the cloud. Instead they imagine they'll continue to use whatever Oracle tools and applications they spent squillions installing on premises and migrate bits of that towards the cloud or hybrid rigs as they see opportunities to save some dough. Along the way sysadmins and DBAs will be freed from on-premises drudgery that hampers innovation, but won't have to repeat any unctuous chores or backtrack because Java written for a box under the desk is just Java and will run fine anywhere.
But businesses with a sudden urge to do something social, mobile or big-dataesque will, Evans and Miranda expect, ascend immediately to clouds so they can catch the wave, while still hooking in to all the other goodness they buy from Oracle (for what it is worth, Gartner this week declared Big Data has entered its trough of disillusionment).
For now, Miranda said Oracle doesn't see the need to play particularly nicely with other clouds, saying the likes of Service Mesh and RightScale are symptoms of cloud's immaturity. Miranda backed that point by saying that, before ERP shone its light on the world, enterprises had to contend with poorly-integrated point solutions. ERP made life better through integration, he insisted, intimating that history should repeat with the rise of integrated clouds.
Oracle is obviously well-positioned to build just such a cloud. Whether anyone will bite on the notion of a big, broad cloud bringing the same benefits as integrated enterprise application suites is another matter entirely. ®