This article is more than 1 year old
VMware and partners to build uber-vCloud to take on Amazon
Project Zephyr wasn't just whispers on the wind
Rumors have been going around since late last year that server virtualization juggernaut and cloud wannabe VMware was working on building its own infrastructure public cloud, said to be called Project Zephyr, and it turns out to be true. Mostly. Maybe.
In a financial analyst meeting held in New York by EMC, VMware's majority shareholder and its virtualization minion, the company confirmed that it was indeed building a public infrastructure cloud based on its virtualization, cloud controller, and storage and network virtualization technologies. VMware CEO Pat Gelsinger told the Wall Street analysts in attendance that this was something that VMware's customers were asking it to do.
The details were a bit sketchy, but contrary to some of the rumors that have been going around, it doesn't look as though VMware will be literally building one or more data centers and Amazon AWS-style infrastructure clouds that customers will run their ESXi-packaged workloads upon.
Rather, as VMware explained in a statement, the vCloud Hybrid Service, as the infrastructure cloud will be called, will be available through the VMware Service Provider Program (VSPP) partners, a number of whom have built fairly large ESXi-based clouds. VMware could be helping service providers build their clouds as well as possibly setting up its own hardware in certain cases, but the company was not clear.
One of the largest VMware-compatible cloud builders was service provider Savvis, which was eaten by telco company CenturyLink in April 2011 for $3.2bn. That is significant, because VMware has just tapped Bill Fathers to be senior vice president and general manager of VMware's shiny new Hybrid Cloud Services business unit. Fathers left Savvis last month, where he was president in charge of sales, marketing, product development, global operations and all corporate functions in the North America, Europe and Asia regions.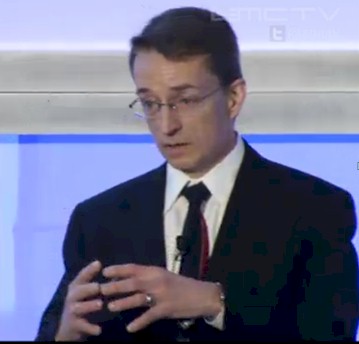 VMware CEO Pat Gelsinger at the vCloud Hybrid Cloud Service launch
Gelsinger said in his presentation that VMware was using an "inside out" model, by which he meant that VMware wanted to have public clouds running vSphere and vCloud that was absolutely compatible with the vClouds that the company's 480,000 enterprise customers are building in their own data centers.
"It is an extension of what customers are doing," Gelsinger said, adding that this application compatibility between private clouds and the vCloud Hybrid Cloud would be a differentiator that other clouds – mainly Amazon Web Services, which does not provide compatible private clouds and more importantly does not really believe in them – cannot leverage. (An argument could be made that this is precisely what Microsoft, Hewlett-Packard, IBM, and Dell are trying to do.)
The important thing is that members of the VSPP channel will be able to get their hands on all of the intellectual property that VMware has cooked up for the Hybrid Cloud Service. Gelsinger did not say it would be available for free, and no one expects that. But there is no question that VMware is going to work down its prices to compete with open source OpenStack and CloudStack, much as Microsoft has had to bring down Windows server costs to compete better with open source Linux.
While more details need to be fleshed out, it looks like the vCloud Hybrid Cloud Service will be a Borg collective of service providers who have constructed ESXi-compatible clouds using vCloud Suite that VMware will leverage to take on Amazon on a global basis. But given the amount of capital expenditures that VMware CFO Jonathan Chadwick told Wall Street to expect – 6 per cent of revenue was the rule of thumb for the next three years – it looks like VMware is doing some kind of data center investing.
But, Chadwick said, building data centers is not strategic for VMware, and "we want to leverage others' facilities." Software and people, Chadwick explained, are where VMware has expertise and will give VMware advantages.
No matter how you cut it, at first blush it looks like VMware is paying service providers to build vClouds. Which it surely has to do if they won't do it themselves.
The vCloud Hybrid Cloud Service will be available later this year. ®