This article is more than 1 year old
SimCity 4
Well, burgher me backwards
Any municipal of yours...
Flipping between the two main modes of play, 'God' and 'Mayor', quickly became second nature. God mode was only really useful on undeveloped regions, but by crafting mountains, valleys and lakes, before seeding them with your choice of trees and wild beasts, you could shape the land in your own image. A move designed to encourage affinity with the region before a brick had even been laid.
Once happy with your masterpiece it was over to Mayor mode to begin the usual SimCity building processes. The ubiquitous residential, commercial and industrial zones were all there as you might expect, but each had altogether more user-friendly tendencies. The street layout of zones was planned out for you automatically for example, while individual house plots were marked more clearly than before, even containing a helpful arrow to indicate which direction they faced.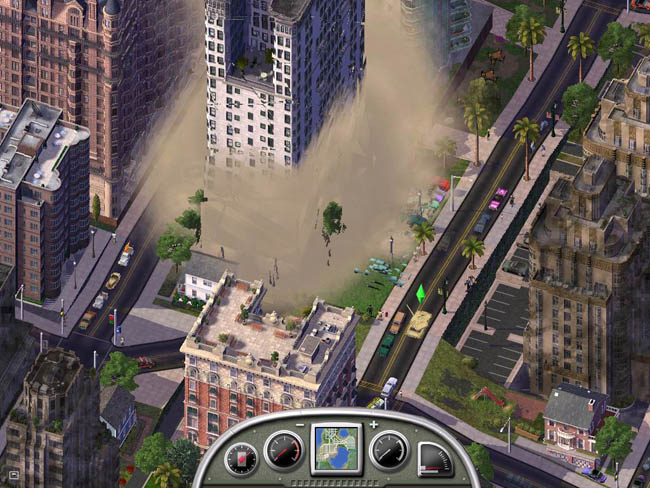 It ain't like dusting crops, boy
It was a small change, but an important one, as the city took shape organically and saved the player from dragging the cursor about the city in the unceasing chore of road building. Not that roads were made redundant – highways and avenues still needed to be designed and their placement considered carefully – but you were spared building every single street, across every single region.
Taxation was given a similar overhaul, as every conceivable financial tweak was possible in the struggle to balance the budget. Education, fire response, police coverage and health services could all be adjusted to suit the needs of your (hopefully) growing populace, with coverage rings pointing out exactly where such facilities would reach.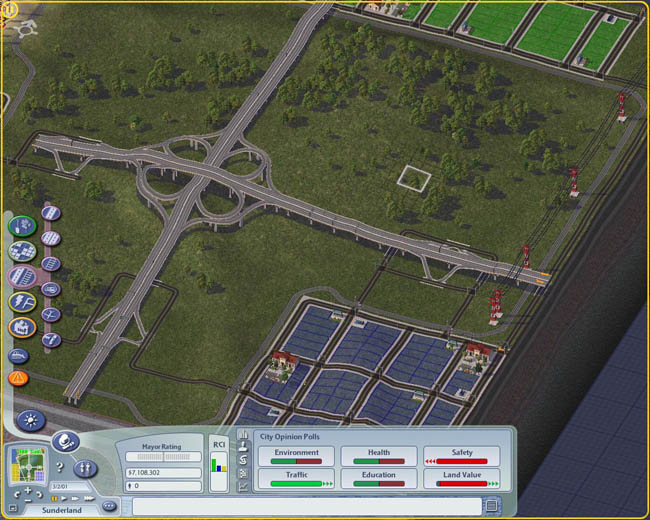 Road to nowhere
Maxis even linked SimCity 4 in with the hugely popular The Sims – 'My Sim' mode, as it was known, letting you transplant your own sims (or random ones if you run out) into your city's homes and properties. From then on you could stalk them at your leisure, watching them work, rest, play and even die – their heirs assuming the deeds to the house in an ever growing family tree of descendants.
Truth be told, it was little more than a gimmick which, like the ability to drive around your city – an add-on provided by the Rush Hour expansion – won't be high on your priorities list. Especially true when you consider how rich and entertaining the actual city building component was.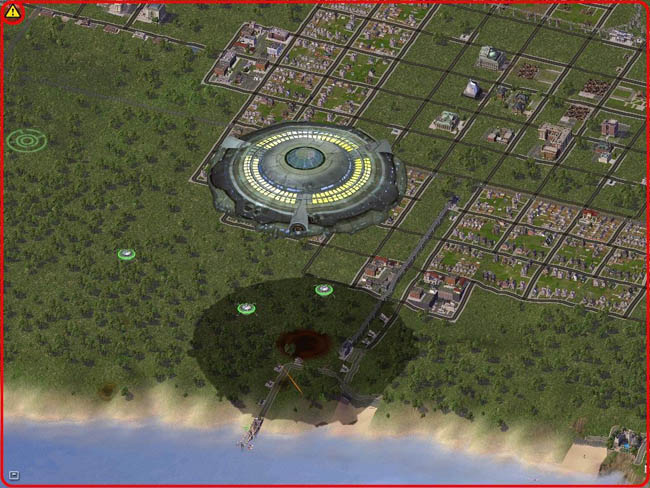 And still no escape from flying saucers
Ultimately it was that quality of entertainment that ensures SimCity 4 remains great to this day. And, now that processing power has moved on by degrees, the engine chugging that dogged its initial release is a thing of the past.
Series fans will have their personal favourites of course - for me it's still the retro perfection that is SimCity 2000 - but, while the new SimCity sorts out its own issues, the fourth in the series still has the qualities to keep budding mayors happy. ®
Release 2003
Developers Maxis / Joseph Knight and Michael McCormick
Publisher EA
Platforms Mac, Windows