Pi/Kindle Chimera

You're locked in the server room; you could email for help, but there's no terminal to hand. WWMD*? Yup, time to whip up a portable terminal using your jailbroken Kindle and trusty RPi. Actually, when you think about it, it's not so bonkers. For terminal work, e-paper is just about usable. And it'd make a change from paperclip lockpicks.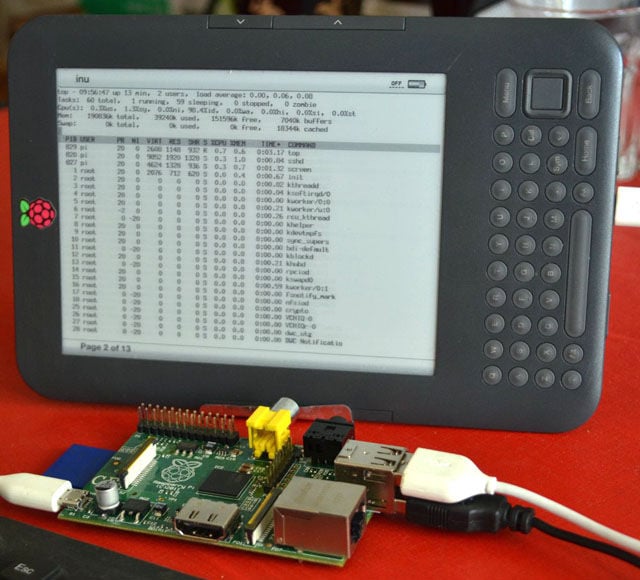 Source: Damaru
Difficulty Level (1-10)
3 - You can do it in software, but, DISCLAIMER that's a jailbroken Kindle, which can be easily bricked. So, yes, I will be building one, but only when I can get to my mother-in-law's, and not using mine...
Extra cost
£60
Shopping List
Kindle, USB keyboard, Micro USB-to-USB cables
Approach
Install a terminal emulator on the Kindle, and USBNetwork. Cable RPi to the Kindle, add a keyboard, and then login to the RPi from the Kindle. Then (the trick) use a terminal multiplexer to share the RPi's session from the Kindle. Voila, external keyboard works, and Kindle = display.
Take it further
At the risk of spoiling the next idea, stick it in a case and run it off a battery.
Online Help
Damaru offers a workthrough for the aptly named KindleBerry Pi
Pi Netbook

Here's your chance to re-create the Osborne 1. Only in colour. With networking. And no chance of shoulder dislocation. Thanks to the recent explosion in hobbyist electronics - Adafruit and Arduino, I'm looking at you! - the availability of small off-the-shelf HDMI capable LCDs with driver boards has blossomed. There's a variety to choose from 1.5in up, so a Nintendo-scale 'nanobook' isn't totally out of the question.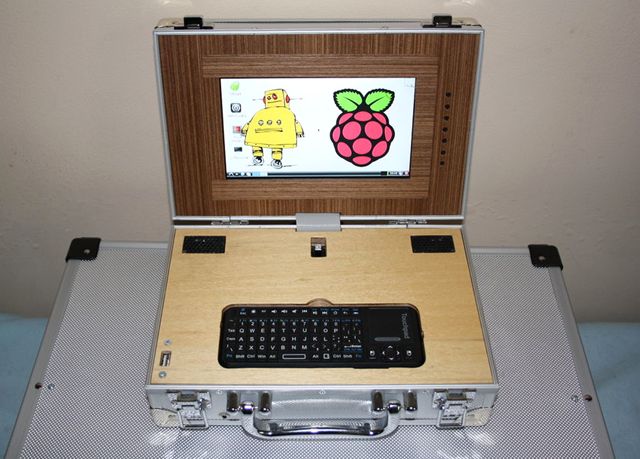 Source: Silver Jimny
Difficulty Level (1-10)
7 - OK, you'll definitely need to break out the soldering iron for this
Extra cost
You can easily manage it for under £150
Shopping List
Small flight case or (!) cigar box, an RPi breakout/expansion board, assorted panel mount connectors for peripheral/external connections, keyboard, batteries, LCD
Approach
Really this is about building the peripherals needed for an RPi into your choice of case.
Take it further
How about LiPo rechargeable batteries? Or adding a wireless support and/or GPS. You know you want to.
Online Help
Don't limit yourself to just RPi sources: there are lots of easily adapted self-build laptop workthroughs. There are plenty of RPi-specific examples of this in the wild. For example, the RPi Challenge runner can be found here.
*What would MacGyver do?
Similar topics