This article is more than 1 year old
CCTV hack takes casino for $33 MILLION in poker losses
Australian Ocean's 11 crew rigs high-stakes poker tourney
A sophisticated scheme to use a casino's own security systems against it has netted scammers $33m in a high-stakes poker game after they were able to gain a crucial advantage by seeing the opposition's cards.
The team used a high-rolling accomplice from overseas who was known to spend large amounts while gambling at Australia's biggest casino, the Crown in Melbourne, according to the Herald Sun. He and his family checked into the Crown and were accommodated in one of its $30,000-a-night villas.
The player then joined a private high-stakes poker game in a private suite. At the same time, an unnamed person got access to the casino's CCTV systems in the poker room and fed the information he gleaned back to the player via a wireless link. Over the course of eight hands the team fleeced the opposition to the tune of $33m.
According to a 2010 Victorian Law Reform Commission report, the Crown has one of the most sophisticated security systems in the industry. Cameras and microphones are studded throughout the casino complex and the feeds are monitored 24/7 by both the casino and staff at the Victorian Commission for Gambling Regulation.
Access to the casino's private high-stakes poker rooms is restricted to the holders of special keycards, and this is augmented by physical security on the door. These rooms also have extra surveillance, with multiple pan, tilt, and zoom cameras watching the players.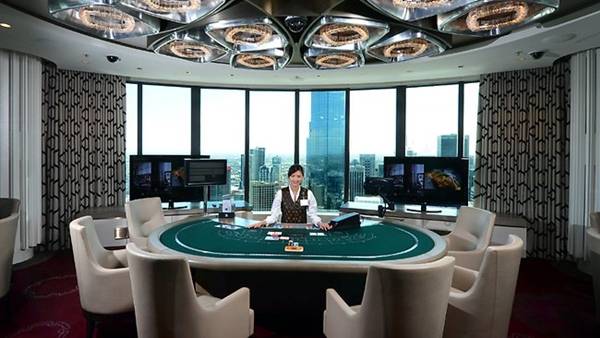 Cameras both obvious and otherwise. Credit: David Caird
"Crown's surveillance department recently reported concerns over a sophisticated betting scam. A Crown investigation is under way and is ongoing," said a Crown spokesman. The company is "in a good position to recover a significant portion of the amount involved in the scam."
"Crown has been liaising with both the police and the Victorian Commission for Gambling and Liquor Regulation regarding these matters," he said.
There may be very little the police can do. Once the scam was uncovered the high-roller was ejected from his suite in the middle of the night and banned from any future visits. He is believed to have returned to his overseas home. The VIP handler assigned to look after him on his visit has also been fired.
It's been an expensive few days for the casino, but the Crown's hardly in financial problems. The casino gets around 30,000 visitors a day and is a top spot for high-spending Chinese gamblers. Last year it reported profits of $181m. ®