This article is more than 1 year old
Don't buy a Google car: They might stop it while you're driving
Reader removal rage spreads far and wide
Google's decision to shut down its RSS Reader product has set the internet alight with protest and migration plans.
One of the more interesting ripostes to the Chocolate Factory's decision appeared in the Tweet below.
I'm not going to buy a Google car. I can see them shutting down the self drive service when I'm overtaking a truck at 70 MPH.

— the real darryl rowe (@darrylr) March 14, 2013
More serious responses abound.
Resurgent content aggregator Digg has made development of a Reader replacement its number one priority.
RSS rival Feedly quickly let it be known it has been working on "a project called Normandy which is a feedly clone of the Google Reader API – running on Google App Engine." That service stuttered beneath a stampede of immigrants before, heaping irony upon irony, Feedly used the elasticity of App Engine to add new servers.
An outfit called Zite says it rebuilt the RSS reader in six hours.
Other action includes a site savegooglereader.org, that does what it says on the can, and 80,000-plus signatories on a Change.org petition calling for Google to keep the product alive. A similar attempt at harnessing public sentiment on the President Obama's We the People petition site failed to get off the ground, with the plea for Presidential aid on a Reader rescue mission deemed worthy of deletion.
There's also a a #savegooglereader hashtag that, perhaps proving Google's point, isn't trending on Twitter.
Lastly, what event isn't marked by a 'Keep Calm' graphic these days? The imminent demise of Reader has scored one too, as shown below.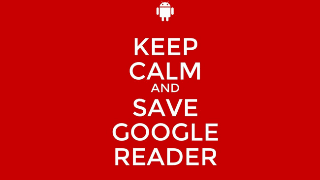 Why Reader died
The 24 hours since the announcement of Reader's doom has also allowed some reflection on the reason for the service's fate.
One, visible here at Alexa's analysis of Google traffic, shows Reader is not among the top 23 destinations on Google. The last on that list, scholar.google.com, attracts just 0.18 per cent of Google's traffic. If Reader is below that audience, it's clearly not very significant.
Another issue is that Google+ has long superseded Reader's social functions. Hardcore Reader users may not care about that, preferring to use the tool as a content aggregator. That mode of usage is hardly likely to advance Google's agenda for its unloved social network, making any gain in Google+ usage perhaps worth the short-term pain inflicted by mouthy RSS-using diehards. ®