Reg readers reveal MIGHTY DOMESTIC DATA CENTRES
Servers'n'sofas challenge reveals racks and stacks in the oddest places
A few weeks back VMware's Mike Laverick told this hack about his home lab and how he used it to further his career. Plenty of you revealed your own home labs in response, so we launched the servers'n'sofas challenge to report on the very best domestic data centres.
We've sifted through the responses and can now bring you the very best home labs from your Reg-reading kin.
Let's start with Brendan Horan's rig. Brendan lives in Hong Kong and apologised for his rig, saying that if he lived in a spot where houses were bigger he would do better. He has nevertheless managed to cobble together the following lab, listed from top to bottom:

Brendan Horan's very neat home lab
100Mbit fibre connection modem on the left and Wi-Fi access point running DD-WRT on the right.
Cisco 1812 terminating the fibre connection
Cisco 3500 XL 48 port Cisco Switch
Sun Netra X1, running OpenBSD 256MB RAM, 10GB HDD
Dual Intel Sossaman running Gentoo Linux 4GB RAM, Areca raid card with 4x HDDs (two Raid 1 volumes)
Rack shelf (holds his tools)
Intel Itanium 2 running OpenVMS 8.2.1, HP-UX 11.31 and Gentoo Linux. 8GB RAM, 3x 18GB SCSI u160 disks, DAT tape drive
Dual AMD Opteron 2216 running ESXI 5. 32GB RAM, 8x HDDs in Raid 10, and Areca Raid card running many, many VMs from Plan9 to OS/2, Gentoo and Linux from Scratch.
HP J6750 running HPUX-11.11 and Gentoo Linux 64bit. Dual CPU PA-RISC 2.0, 16GB RAM, 2x32GB SCSI-U160 disks. HP web console card, fibre card and FX 10 card.
IBM Power, running AIX 5.5 and Gentoo Linux.
Brendan said he built the lab "as my home testing grounds and running my own internal services, BIND, DHCP etc. ESXi takes care of most of that testing side and allows me to have a smaller footprint." He also feels the lab "gives me a good way to keep current with new technology quickly."
He adds: "As for the UNIX boxes. I have a bit of a soft spot for different hardware architectures, so I used them to learn about architectures."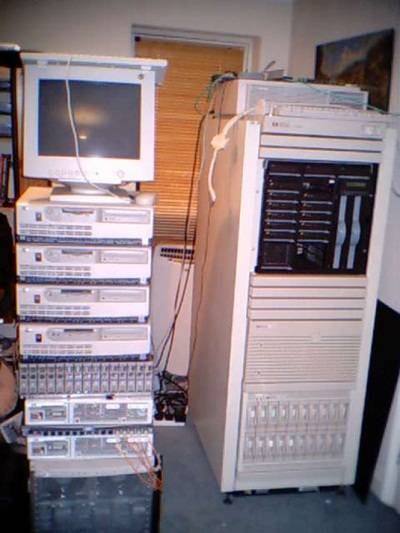 Ken Green's Home Lab circa 2003
Home lab lUXury
Readers might know our next home labber, as Ken Green was once lead technical trainer on HP-UX for HP's UK customer training organisation. Below right you can see the lab he ran circa 2003, when it held all sorts of HP storage, PA-RISC workstations, a Brocade fibre channel switch and four PCs acting as servers.
These days Green is still a training consultant and has contented himself with the following, housed in a data centre:
1 HP rx7620 with 8 Maddison Itanium2 CPUs and 56GB of RAM
1 HP rx5670 with 4 McKinley CPUs and 8GB of RAM
1 HP rx2400 with 2 McKinley CPUs and 12GB of RAM (this runs an Oracle RAC cluster inside VMs)
The VA disk array
Really can't remember how many FC JBOD disk racks (I just gave away all my SCSI boxes)
2 DL380s
1 DL320... and
"all the switches and crap to make it work," as Ken delicately puts it.
At home he houses another four servers, several Dell PCs, three laptops, some HP managed switches and Ken's pride and joy: an HP85 luggable computer from around 1980.
Another trainer, Stephen Rea, also has a colossal lab.
Indeed, Stephen sent us no fewer than 75 images of his lab, which comprises nine servers, a QNAP NAS and a UPS.
"As a Microsoft Certified Trainer I've found over the years one way to help learn is to play so I've always had some sort of LAB setup," Stephen wrote. "Now as a Technical Architect … designing and deploying environments for many Fortune 500 and above businesses, having a home based LAB to test different platforms and application technologies is one of the most important parts of my job."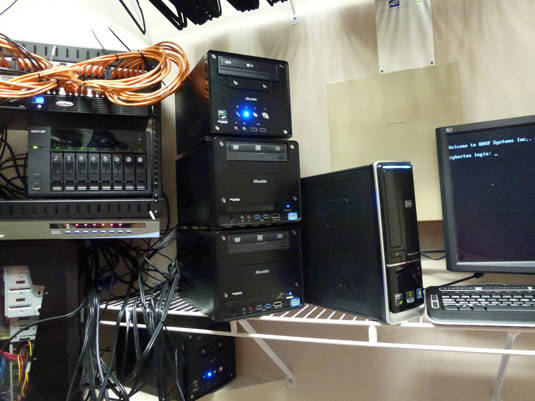 Some of Stephen Rea's home lab