Samsung's new Galaxy S 4: iPhone assassin or Android also-ran?
Software distinguishes 'a life companion for richer, simpler life'
---
After weeks of hypegasmic drum-beating at a level unusual for the South Korean consumer-electronics giant, Samsung unveiled its Galaxy S 4 at an embarassingly over-the-top, show-biz–infused gala on Thursday evening.
Held in New York City, the extravaganza overshadowed the fact that the Galaxy S 4 appears to be a fine Android phone, and although it may not put all other Android mobiles to shame, it does make Apple's iPhone 5 look like yesterday's newspaper.
No matter how you spin it – be you fanboi or fandroid – Tim Cook & Co. have a heavy-hitting competitor on their hands, despite some pundits' predictions and Apple-executive smokescreening.
Before we dip into the Galaxy S 4's software-based advances – and knowing that Reg readers are more interested in fact-based geekery than razzle-dazzle glitziness – let's first roll through Samsung's new smartphone's tech specs, beginning with the should-be-obvious fact that it's based on Google's Android OS; version 4.2.2 Jelly Bean, to be exact. That base system, however, has been enhanced with a host of Samsung-only features which we'll get to in a moment.
During the event, no mention was made of the processor running the Galaxy S 4, but in the company's release detailing the handset's specs, Samsung says that the phone will come in two basic versions, a 1.9GHz quad-core and a 1.6GHz "Octa-Core", to be sold in different markets.
That quad-core processor's provenance is unknown at this moment, but it may be a 1.9GHz version of the 32nm Exynos 4 Quad SoCs in the Galaxy S III and Galaxy S III LTE, which have four ARM Cortex-A9 compute cores.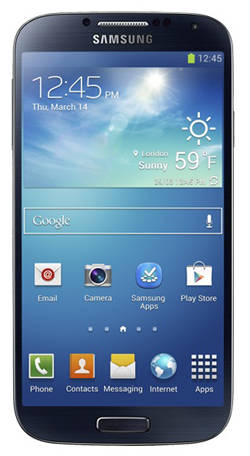 That's S 4, not S4 nor S IV
On the other hand, it may be, as Xbit reported late last month, a Qualcomm Snapdragon 600 APQ8064T, which contains four Qualcomm Krait 300 compute cores, an Adreno 320 GPU, and other SoC niceties.
The "Octo-Core" processor's daddy, however, needs no paternity test: that would be Samsung's new Exynos 5 Octa application processor. This 28nm SoC is based on ARM's "big.LITTLE" architecture, which in the case of the Octa marries four Cortex-A7 cores to four Cortex-A15 cores, with the lower-power A7 cores handling such mundane matters as email and web browsing, and the more-muscular A15 cores kicking in when more oomph is needed.
Imagination Technologies has confirmed that GPU duties in the Exynos 5 Octa are being handled by its PowerVR SGX544MP3 IP – an interesting step away from ARM's Mali-400 MP4 GPU in the 32nm Exynos 4 Quad.
The Galaxy S 4 has 2GB of LPDDR3 RAM, along with 16, 32, or 64GB of storage that can be supplemented by up 64GB of storage on a microSD card. The number and type of sensors aboard the S 4 is impressive: accelerometer, RGB light, compass, proximity, gyroscope, barometer, temperature, humidity, and gesture – more on that last one later.
As for network connectivity, the Galaxy S 4 covers the waterfront with a veritable alphabet soup – integers included – of available services:
2.5G (GSM/GPRS/EDGE): 850/900/1800/1900MHz
3G (HSPA+ 42Mbps): 850/900/1900/2100 MHz
4G (LTE Cat 3 100/50Mbps): up to 6 different band sets, depending on where it's being sold
Local wireless connectivity includes, as is to be expected in any modern handset, 802.11 a/b/g/n Wi-Fi. But in a bit of a pleasant surprise, zippy 802.11ac is also included. You'll also find NFC, Bluetooth 4.0, GPS (GLONASS), and an IR LED for use as a remote control.
All of this hardware – and the display – is powered by a 2,600 mAh battery. It's removable, so you can bring along a spare should you plan to be firing up all eight cores of the Exynos 5 Octa for any extended amount of time.
The Galaxy S 4's display is – on paper, at least – a high-res stunner. The 4.99-inch Super AMOLED panel (which, of course, was touted as "a full 5 inches" during the consumer-focused rollout event) has a pixel resolution of 1920-by-1080, which produces a mind-boggling density of 441 pixels per inch.
That display, protected by Corning's Gorilla Glass 3, sits nearly edge-to-edge in the Galaxy S 4's polycarbonate case, which is 136.6-by-69.8-by-7.9 millimeters, and which weighs 130 grams. Although the event's hosts repeatedly reminded us of how the S 4 is lighter and thinner than its predecessor, the differences are slight – the now-superceded Galaxy S III is the same length, 0.8mm wider and thicker, and 3 grams heavier. We'll let you decide whether those differences are worth shouting about.
Oh, and the case – with "finish and craftsmanship [that] are really something to see and feel" is available "in two stunning colors: black mist and white frost." That'd be black and white, to those of us who don't shout marketing brouhaha over the Radio City Music Hall–filling musical stylings of "Kim Scharnberg and the fantastic Broadway Orchestra!"