Feature There is a select band of gamers who will only be satisfied by a huge amount of graphics and processing power. For them, the only thing to do is build a bonkers gaming PC.
In my opinion, the tricky part of the job is organising the pile of parts that you'll use for the build. While we 'Build a Bonkers...' writers don't worry too much about money, I don't want to encourage waste.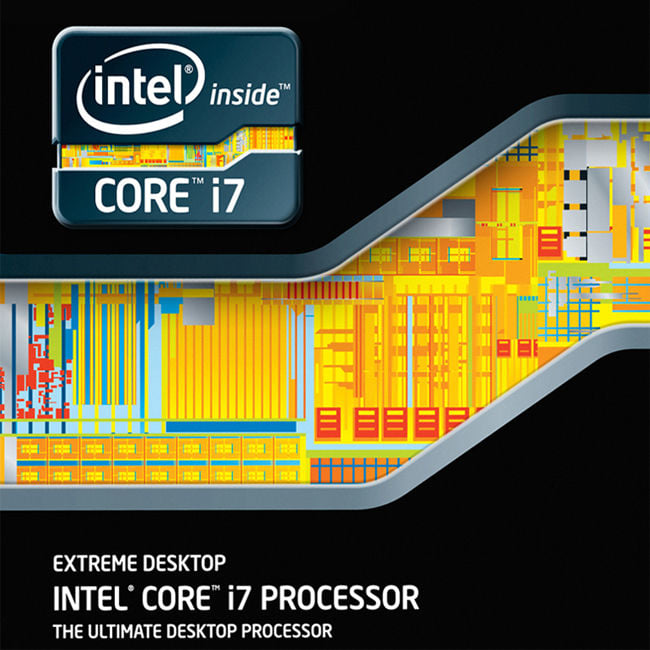 The sensible and cautious way to proceed, then, is to do things in stages. Buy the case and power supply; install the motherboard, CPU and memory; hook up the cooling; bung in some storage followed by a few graphics cards and - voila - you have a bonkers PC. The slow and steady approach will take you a few weeks but should avoid commonly made mistakes, such as buying a 200mm fan for a case that only provides 120mm and 140mm housings.
Alternatively, you can finalise your plans, go for broke and order a stack of hardware in one hit and that way keep the carriage costs to a minimum while also saving time.
Crazy CPUs
Let's start with the processor, as that has a massive bearing on performance, as well as dictating your choice of motherboard chipset. The fundamental question is whether you buy from AMD or from Intel. On paper, AMD's Socket AM3+ Bulldozer FX-8150 looks convincing. It has a clock speed of 3.6GHz and eight physical processing cores, all for a mere £150.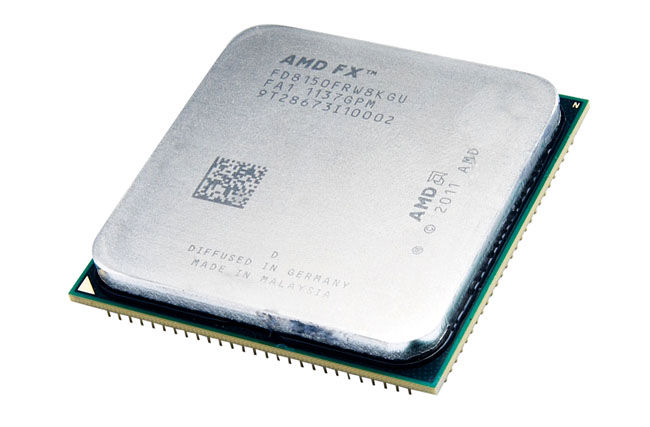 AMD's FX-8150 Bulldozer is giving ground
In practice, the FX-8150 disappoints and in the 3D Mark Vantage benchmark turns in a CPU score of 18,994. Even an aged Intel Core i7-2700K can manage to rack up 24,721 points. Using the latest, 2013 edition 3D Mark Fire Strike Extreme benchmark, the AMD achieves a Physics score of 6709 while the Core i7-2700K weighs in at 9226.
Just as significantly, the AMD system with a single Radeon HD 7950 graphics card draws 250W of power under load while the Intel equivalent only needs 190W. So the AMD draws more power and delivers less performance than Intel's previous generation of processor, Sandy Bridge. It looks even worse compared to Intel's newest platform, Ivy Bridge, which has slightly higher levels of performance - approximately five per cent - than its predecessor, as well as improved efficiency that saves about 20W under load.
So AMD is out of the equation.
The obvious starting point for the gamer with one eye on the budget is the Core i7-3770K, a 3.5GHz part with four physical cores and Hyper-Threading technology to make it appear to have eight. However, we want a bonkers processor so my chosen piece of silicon is the Sandy Bridge Extreme. This CPU is based on previous-generation Intel technology, but you get six physical cores which Hyper-Threading takes to 12, and a quad-channel DDR 3 memory controller. This requires a larger, LGA2011 processor socket, an Intel X79 chipset and £800 out of your wallet.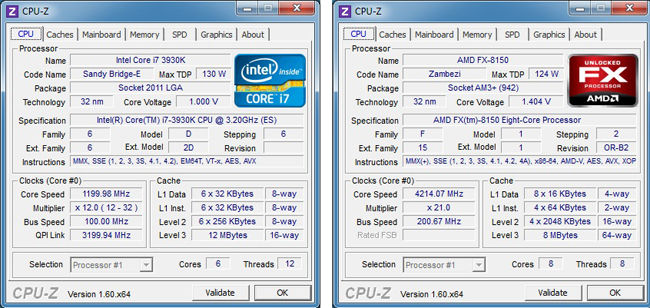 CPU-Z readout: Intel's Core i7-3930K and AMD's FX-8150
In return, you get a 3D Mark Vantage CPU score of 36,699 marks and a Fire Strike Extreme Physics score of 12,560, while the PC power draw is a reasonable 245W under load - ie. the same as the AMD Bulldozer, which scored rather less well in those benchmarks.
It is far from clear whether Intel will release an Ivy Bridge Extreme processor later this year or simply move straight on to Haswell, its next-generation processor architecture.
Similar topics