Lenovo: Windows 8 is so good, everyone wants Windows 7
We'll just leave Redmond's latest OS on this DVD, over here. When you want it
---
You don't notch up 15 consecutive quarters of growth in a declining market without doing something right - so what's PC maker Lenovo doing right?
Well, many things. But it can't do any harm that Lenovo is protecting enterprises from the waterboarding torture of the Microsoft Windows 8 operating system. The majority of Lenovo's enterprise shipments have Windows 7 installed; the touchscreen-friendly Windows 8 is discreetly bundled on its own separate disc.
Lenovo has learned from the Windows Vista experience that the official Microsoft "downgrade" path can be painful. So the machines are "downgraded" to Windows 7 by default. Of course, that's exactly what customers want - and Lenovo is reaping the benefit of listening to those customers.
The computer maker even throws in a Start Menu for Windows 8, which is installable from the Lenovo software bundle. The company wouldn't be drawn on the exact ratio of Windows 7 to Windows 8 machines shipped.
Lenovo's UK boss Marc Godin told The Channel that enterprises were interested in testing Windows 8-powered touchscreen devices in-house, and the company showed off its Thinkpad Helix convertible to woo big biz.
Essentially, the Helix is a docking station with a built-in QWERTY keyboard; the computer, what one might otherwise call a tablet, is in the detachable screen. Asus and others have similar form factors but this is more robust. Unlike Lenovo's Yoga Ultrabook, the Helix is unequivocally aimed at the enterprise. There's no word on an availability date just yet, but expect the price to be about £1,500. Ouch.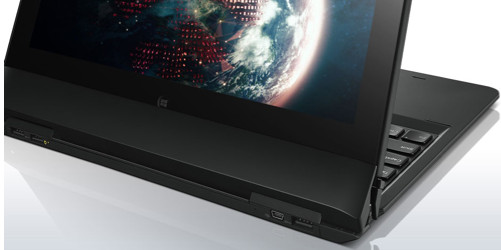 Lenovo's Helix Windows 8 laptop tablet thing
Lenovo said no talks are underway with TCOKAR (The Company Otherwise Known as RIM), aka BlackBerry. Last year Lenovo denied it was acquiring Nokia. BlackBerry makes a lot more sense, given the enterprise crossover - and if TCOKAR wants to dip its toe into licensing its new BlackBerry OS, it could do far worse than Lenovo. ®