STEC must be glad to say farewell to a year of poor results, which is what 2012 represented, but 2013's first quarter is going to slump further, according to the firm's projections at a recent earnings call. STEC's OEM business is not doing so well, and its replacement direct sales biz is off to a slow start. Negotiations with activist shareholders, meanwhile, appear to have collapsed. It's not looking good.
STEC makes solid states drives to replace hard disk drives, and initially was the l;eader in this market in its glory days with OEMs such as EMC and IBM, but has languished as competitors have entered the field and won OEM contracts in preference to STEC. It also makes a line of PCIe server flash cards.
Revenues for STEC's fourth 2012 quarter, which finished on 31 December, were $35.1m and the compares were bad. It was a 40 per cent decline from the year-ago quarter and 17 per cent from the third 2012 quarter. The firm missed Wall Street's expectations too.
Net income numbers were just as bad, with a loss of $23.2m, which compares to a loss of $19.8m in the previous quarter and one of $3.6m a year ago. The chart shows the gory trends.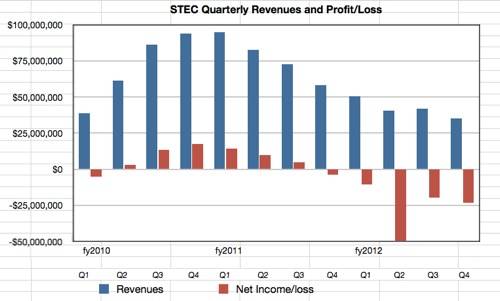 STEC revenues and profit/loss to 2012's fourth quarter.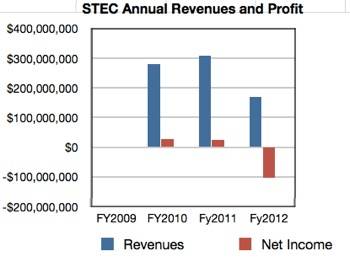 The full 2012 results look even worse, with revenues at $168.3m compared to $308.1m a year ago and a net loss of $103.2m against a profit of $25.1m for 2011. That's a 45 per cent fall in revenues and a dreadful fall from a net profit to a net loss representing a near-enough 500 per cent swing.
The OEM golden goose is laying smaller eggs and they are going to shrink even further. A chart from Aaron Rakers of Stifel Nicolaus lays bare the OEM revenue fall.

Blue line - EMC. Red line - IBM. Green line - Hitachi.
What does STEC have to say for itself? President and interim CEO and Mark Moshayedi said: "Although we experienced another very challenging quarter, I am very pleased with the headway that we made towards the successful implementation of our business strategy that is focused on diversifying our customer base.
"The strategic goal is to attain a solid mix of channel distributors and enterprise customers along with our OEM customers."
Easier said than done when you're a small player competing with Fusion-io, Intel, LSI, Micron and Samsung.
Sales, channel and selling "solutions"
STEC has been recruiting salespeople in order to sell its wares into enterprises and says it has gained its first non-OEM customer contributing more than 10 per cent of its revenues.
Moshayedi said: "I believe that we are now well-positioned to target our key vertical markets. As an organisation, we are evolving into a storage systems and solutions provider and away from simply providing components."
He said more in the earnings call: "We are aggressively pursuing end-user customers by expanding our channel and direct enterprise sales force. Our methodology is to provide customers a solution provider approach that leverages our core technologies as apposed to a component provider approach."
There are apparently about 45 sales people now.
The CEO said he expects the changed strategy to pay off through 2013 and beyond. The immediate prospects are poor though: the first 2013 quarter's revenues are expected to drop to $21m - $23m and the loss is expected to be worse too. However cash burn is not an issue, according to CFO Raymond Cook. He said: "We have a significant cash position, both domestically and internationally and based upon our models, we do not see that as being an issue."
STEC would not talk about how the second 2013 quarter is looking, even though it starts in just over two weeks. The suspicion is that it might show a further fall in revenue and a deepening loss, because of lower OEM revenues, although Moshayedi hoped they wouldn't fall further: "We believe that obviously we're kind of bottoming out this quarter... we're hoping that we can get the number on the OEM side up."
It is not surprising that negotiations with activist investors Baulch Hill and Potomac have broken down. They want Moshayedi's head and he and his brother Manouche, a board director and previous CEO, are in no mood to oblige. STEC is their company and they'll not give it up easily.
STEC chairman Kevin Daly said: "We are disappointed that the dissidents have decided to pursue this wasteful course of action. The Board and management team remain fully committed to creating value for all shareholders, and that remains our focus." The dissidents want shareholder value distributed now rather than re-invested (or mismanaged, as the investors would have it).
Moshayedi said: "There is significant value to be realised in our transition towards becoming an SSD solution provider and driving up the value chain, and as opposed to just being components selling."
The CEO said STEC would "continue to reach out to the activist investors and as a result, this proxy contest and we're hoping that we could get to a mutually agreeable resolution."
STEC and OCZ are two sick flash puppies, although OCZ is much ,ore poorly than the Moshayedis' firm. Neither appear to have any realistic prospect of returning to their former glories in the next two or three years, but at least they can hope that 2013 is a better year than the annus horribilis that 2012 represented for both of them. ®