NASA's Mars rover Curiosity is parked in "safe mode" again after being laid low by a software bug. The fault was triggered by an unexpected command-file size, which the machine detected before it was too late.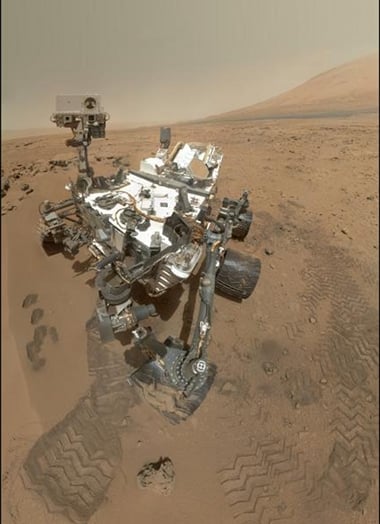 Curiosity's selfie on the Red Planet
The nuclear-powered space lab truck put itself into precautionary standby status around 0300 GMT on 17 March while it was operating off its B-side computer, a redundant brain activated the last time the bot suffered a glitch and switched from its A-side. That morning, the rover didn't return control from the B-side to its A-side, which was fixed last week and is available for use.
NASA said yesterday that the rover is stable and in communication with engineers. Curiosity hit safe mode when a command file failed a size check by its software. Engineers have since figured out that a software bug appended an unrelated file to the data, causing the command script's size to differ from what was expected.
"This is a very straightforward matter to deal with," said Richard Cook, project manager for Curiosity. "We can just delete that file, which we don't need any more, and we know how to keep this from occurring in the future."
Mission engineers have already had to deal with memory problems in the A-side computer, which kicked off at the end of February, causing the switch to the B-side after Curiosity sat in safe mode for two days.
NASA expects this glitch to take a couple of days to sort out as well, but the agency will be keen to get the rover back on its feet before 4 April, when Curiosity will be out of touch for four weeks.
Mission controllers are banned from sending commands to the rover for the month because Mars will pass nearly directly behind the Sun from Earth's perspective and there's a danger that the Sun could corrupt any orders sent to the rover. ®