A simulated talking head that can apparently express human emotion has been created by engineers in Cambridge, England. Think Red Dwarf meets, er, Hollyoaks.
The computer system called "Zoe" can generate voice and facial expressions from typed text and - more importantly from a commercial perspective - can potentially be used as a digital assistant for smartphones.
It also comes packed with software that can allow punters to swap out faces and voices on "Zoe" to personalise the system.
Actor Zoe Lister of C4's blonde-young-person-angst soap opera Hollyoaks provided images of her face for the project (see YouTube vid here). Researchers at Toshiba's Cambridge lab got together with bods from the University of Cambridge engineering department to collaborate on "Zoe".
Parallels were quickly drawn with Red Dwarf's severed computer head "Holly" from the much-loved Brit sci-fi series set on a mining spaceship three million years into deep space.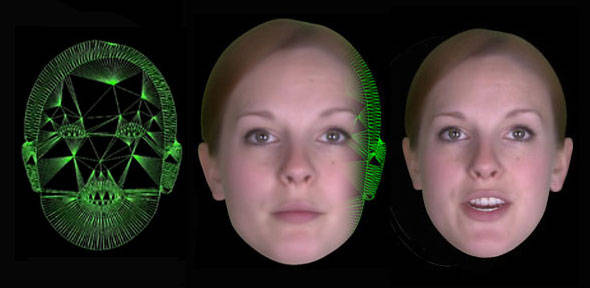 Why didn't they simply call her Hollyoaks?
Lister (not the Liverpudlian Dave of Red Dwarf, but the Hollyoaks thesp Zoe - confusing, innit?!) had her speech and facial expressions recorded for the the computer system.
The researchers claimed:
The framework behind 'Zoe' is also a template that, before long, could enable people to upload their own faces and voices - but in a matter of seconds, rather than days. That means that in the future, users will be able to customise and personalise their own, emotionally realistic, digital assistants.

If this can be developed, then a user could, for example, text the message 'I'm going to be late' and ask it to set the emotion to 'frustrated'. Their friend would then receive a 'face message' that looked like the sender, repeating the message in a frustrated way.
The team is now looking for guinea pigs to test the system with a wider audience to develop different types of applications with the technology. They are also hoping to use it to help autistic kids to "read" emotions and deaf children to lip-read. The system could be used - among other things - in gaming and audio-visual books, the researchers added.
"Present day human-computer interaction still revolves around typing at a keyboard or moving and pointing with a mouse." said the University of Cambridge's professor Roberto Cipolla.
"For a lot of people, that makes computers difficult and frustrating to use. In the future, we will be able to open up computing to far more people if they can speak and gesture to machines in a more natural way. That is why we created Zoe - a more expressive, emotionally responsive face that human beings can actually have a conversation with."
The program can run on fondleslabs and smartphones as it is just tens of megabytes in size. The system itself works by flagging up a set of six "primary colour" emotions, explained the researchers. "Zoe" can flick between happy, sad, tender, angry, afraid and neutral. But unlike Red Dwarf's Holly, there is sadly no deadpan sarcasm involved. ®