This article is more than 1 year old
Drilling into 3D printing: Gimmick, revolution or spooks' nightmare?
Top prof sorts the hype from the science for El Reg
Special report 3D printing, otherwise known as additive manufacturing, is a subject that pumps out enthusiasts faster than any real-life 3D printer can churn out products.
In conventional machining, computer-aided design and computer-aided manufacturing (CADCAM) combine to make products or parts of products by cutting away at, drilling and otherwise manhandling materials. With 3D printing, CADCAM works with product scanners, other bits of IT and special plastics and metals to build products up, whether through the squirts of an inkjet-like device or the sintering of metal powder by lasers or electron beams.
Rather in the same way, America's somewhat self-conscious Maker Movement – several thousand DIY fans out to revive manufacturing through the web and from the privacy of their own garages – promotes 3D printing with layer upon layer of hype.
It's true that 3D printing has its good points. Without having to engage in expensive retooling, a 3D printer can easily be reprogrammed to make variations on a basic product - good for dental crowns, for example. 3D printing can also make intricate products with designs that cannot be emulated by conventional, "subtractive" techniques.
In principle, though not always in practice, 3D wastes less material than conventional techniques. And while jewellery, toys, footwear, the cases for mobile phones and other smallish items lend themselves to 3D, researchers at the European aerospace and defence giant EADS have for two years hoped that they will one day be able to print titanium components directly on to the structure of an entire wing of an Airbus.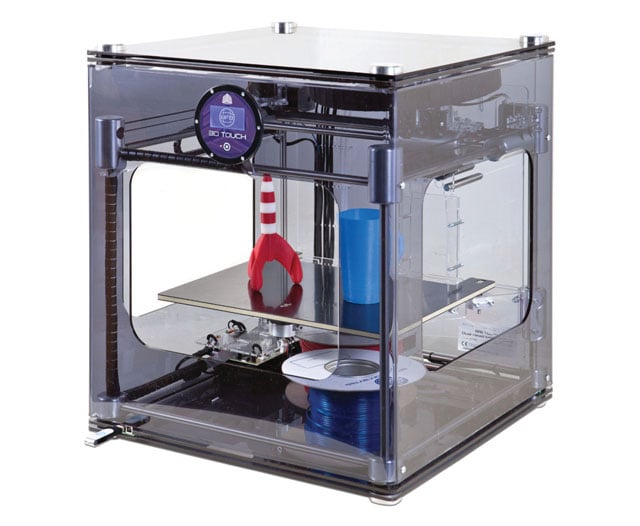 The touchscreen-driven 3D Touch 3D printer: Cheerful, user friendly and only, er, $3,000 (£1,999)
Despite all this, those who blithely proclaim that 3D printing brings a revolution to manufacturing make a mistake. 3D printing does not represent a pervasive, durable and penetrating transformation of the dynamics and status of manufacturing. Nor, as The Economist newspaper has proposed, is its emergence akin to the birth of the printing press (1450), the steam engine (1750) or the transistor (1950). There is much to celebrate about 3D printing, and even its too-fervent advocates at least represent a reasonable desire to produce new kinds of things in new kinds of ways. Yet what characterises 3D printing is how, as with other powerful technologies today, it need only barely arrive on the world economic stage for zealots to overrate it, and for others to turn it into an object of fear.
Web democracy is old hat - it's all about 'democratising innovation in atoms'
From customised surgical implants to complex, lightweight components in the car industry, 3D seems to conquer everything before it. Indeed, not too long after the hipsters at Wired began to promote 3D, two editors from that stable quit to join Makezine.com. In another telling move, Chris Anderson, for years editor-in-chief of Wired, left last year to become CEO of 3D Robotics, a company that uses 3D printing and robots to build civilian unmanned aerial vehicles – aeroplane drones and helicopter drones, ready to fly at $765.
Anderson's book, Makers: The New Industrial Revolution (2012), is a big plea for 3D printing, and, though boosterish, is nevertheless instructive. Citing the famous and somewhat singular instance of Mark Zuckerberg and Facebook, Anderson starts from the dubious premise that the web has democratised innovation by closing the gap between invention and entrepreneurship. "Anyone with an idea for a service," he intones, can "turn it into a product with some software code… [and go on to] 'ship it' to a global market of billions of people". Then, in the breezy style affected by Wired, the author goes on to instruct: "Just imagine what a similar model could do in the larger economy of Real Stuff."
So the web, we are told, democratised innovation in bits; and now a new class of rapid-prototyping technologies – machines that allow rough but functional designs to be turned out in a few hours or days – is, Anderson insists, "democratising innovation in atoms". As a result, "anyone" with an invention or good design can "upload files to a service to have that product made, in small batches or large, or make it themselves with increasingly powerful desktop fabrication tools such as 3D printers. Would-be entrepreneurs and inventors are no longer at the mercy of large companies to manufacture their ideas."
In fact, seeing IT in general and the web in particular as forces on the side of democracy is an idea with a long and ill-distinguished past. For instance, in his seminal 1993 book, The Virtual Community, the prolific American author Howard Rheingold already put forward computer-mediated communications as a "democratising" technology and as "a means of enhancing democracy". He forgot that democracy is a political matter, not a technical one that can be reduced to the movement of electrons.
What, then, is new about 3D printing? Do its high priests merely mark yet another American fad for attributing new kinds of liberating political powers to new technologies? After all, once the US and British media gave rave reviews to US pollster Nate Silver for correctly computing the outcome of the 2012 US presidential elections in all 50 states, it ought to have been clear how easily fondness for data-crunching technologies substitutes for political ideals nowadays.
Certainly the old idea of IT allowing someone like Michael Dell to build a corporate giant from his college dormitory room dies hard in the US. And those who exaggerate the power of 3D printing to turn everyone into a budding inventor /entrepreneur/manufacturer follow very much in this utopian tradition. But there is more to boosters of 3D than mere geekery or quackery.